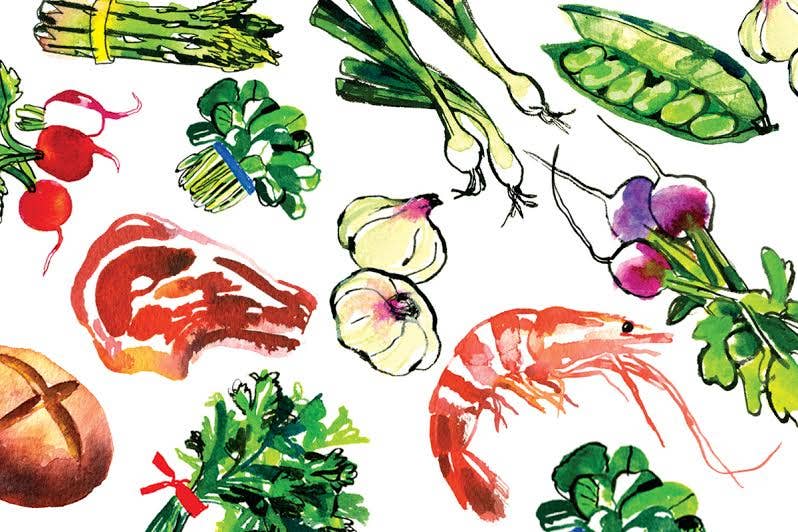 Recipes
Dried Scallop and Peanut Congee
_ (Ganbei Huasheng Zhou)_
Look for meaty pork bones found in bags at Chinese butcher shops. Dried scallops are available in different grades and prices. Since the scallops will break down into shards in the congee, it is fine to buy the less expensive smaller ones. Puffy, tubular, savory crullers, called youtiau, are traditionally eaten warm with congee in the morning.
**2 lbs. meaty pork bones, cut into 2" -3"- long pieces
3/4 cup jasmine or other long-grain rice
1 tbsp. vegetable oil
Salt
2" piece ginger, peeled and sliced lengthwise
2 cups (about 9 oz.) dried scallops
1/2 cup unsalted raw blanched peanuts
1 scallion, trimmed and thinly sliced on the bias
**
1. Put pork bones into a large heavy pot, cover with cold water by at least 2", and bring to a boil over high heat. Drain and return pork bones to the pot.
2. Put rice into a medium bowl, cover with cold water, and swish around with your hand until water clouds. Drain. Repeat process until water remains clear, 4-5 more times. Drain rice and return to bowl. Stir in oil and generously season with salt. Transfer seasoned rice to pot with pork bones. Add ginger and 8 cups cold water and bring to a boil over high heat.
3. Stir in scallops and peanuts, cover pot, and reduce heat to medium-low. Simmer rice mixture, stirring occasionally, for 1 3/4 hours. Rice will be soft and grains broken. Remove pot from heat and let congee rest, covered, to steep and thicken for 1 hour.
4. Remove and discard bones and ginger from pot of congee. Thin congee to your liking with 1/2-1 cup cold water.
5. Reheat congee over medium-low heat, stirring occasionally. Adjust seasonings. Serve congee in deep bowls garnished with scallions.