Lo Mian (Egg Noodles with Beef and Chinese Broccoli)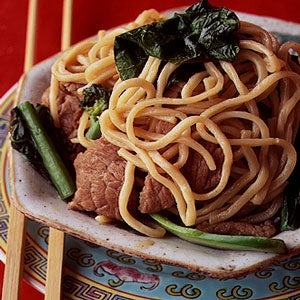 Lo mian, literally "tossed (or mixed) noodles", is the generic term for any combination of fresh egg noodles and stir-fried vegetables and/or meat known in restaurants in the United States as lo mein.
Yield: serves 4
Ingredients
3 tbsp. light soy sauce
3 tbsp. oyster sauce
1 tsp. sugar
½ lb. top sirloin steak, halved lengthwise and thinly sliced
3 tbsp. vegetable oil
½ lb. Chinese broccoli, trimmed, leaves and stems thinly sliced on the diagonal
1 cup unsalted chicken stock
1 tbsp. dark soy sauce
1 lb. dan mian (fresh thick egg noodles)
½ tsp. sesame oil
Freshly ground black pepper
Instructions
Combine 1 tbsp. light soy sauce, 1 tbsp. oyster sauce, and sugar in a bowl. Add beef and marinate for 20 minutes.
Heat vegetable oil in a wok over high heat. Add beef and stir-fry until it begins to brown. Add broccoli and stir-fry until tender, about 3 minutes. Transfer to a plate and set aside.
Bring stock, remaining 2 tbsp. light soy sauce, remaining 2 tbsp. oyster sauce, and dark soy sauce to a boil in wok over high heat. Add noodles, stir, and cook until most of liquid has been absorbed, 5-10 minutes. Stir in sesame oil, beef, and broccoli. Season with pepper and serve.