Fettuccine with Heirloom Tomatoes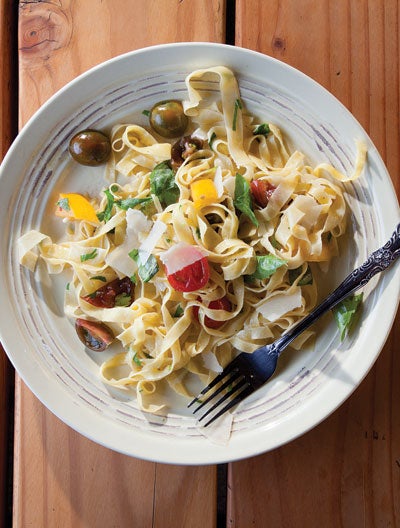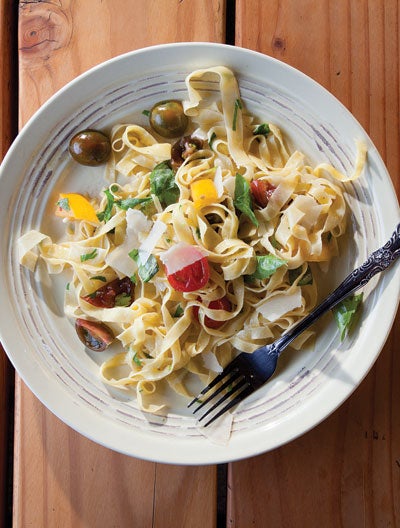 Rachael Grossman, from the Portland food cart Artigiano, highlights the flavor of heirloom tomatoes by simply tossing them with homemade fettuccine. This recipe first appeared in our June/July 2012 issue along with Dana Bowen's story Food of the People. For a step-by-step guide to making foolproof fettuccine, see our gallery »**
Fettuccine with Heirloom Tomatoes
Rachael Grossman, from the cart Artigiano, highlights the flavor of heirloom tomatoes by simply tossing them with homemade fettuccine.
Ingredients
1 cup flour
1⁄2 cup semolina flour
2 eggs, lightly beaten
6 cups roughly chopped heirloom tomatoes
1 cup halved heirloom cherry tomatoes
1⁄4 cup extra-virgin olive oil
15 basil leaves, thinly sliced
2 cloves garlic, minced
Kosher salt and freshly ground black pepper, to taste
Cornmeal, for sprinkling
Thinly shaved parmesan, for serving
Instructions
Make the pasta: Stir together flour and semolina in a large bowl, and form a well in the center; pour eggs into well and stir with a fork until dough forms. Transfer dough to a work surface and knead until smooth, about 10 minutes. Cover with plastic wrap and let sit for 30 minutes.
Meanwhile, make the sauce: Combine tomatoes, oil, basil, garlic, and salt and pepper in a bowl; cover and let sit at room temperature for 30 minutes to meld flavors.
Uncover and halve dough; using a pasta roller or rolling pin, roll each piece of dough until it's 1⁄16" thick. Hang pasta sheets on a rack to dry slightly for 5 minutes. Slice pasta sheets crosswise into lengths of one foot and stack, one on top of another, sprinkling cornmeal in between, then roll into a cylinder; cut crosswise into 1⁄3"-thick ribbons. Unravel fettuccine and toss with semolina to separate; let dry for 10 minutes.
Bring a large pot of salted water to a boil over high heat, and add pasta; cook, stirring, until al dente, about 3 minutes. Drain pasta and add to bowl of sauce; toss to combine. Divide among serving bowls and garnish with parmesan.