Recipes
Fettuccine with Brussels Sprouts, Cranberries, and Caramelized Onion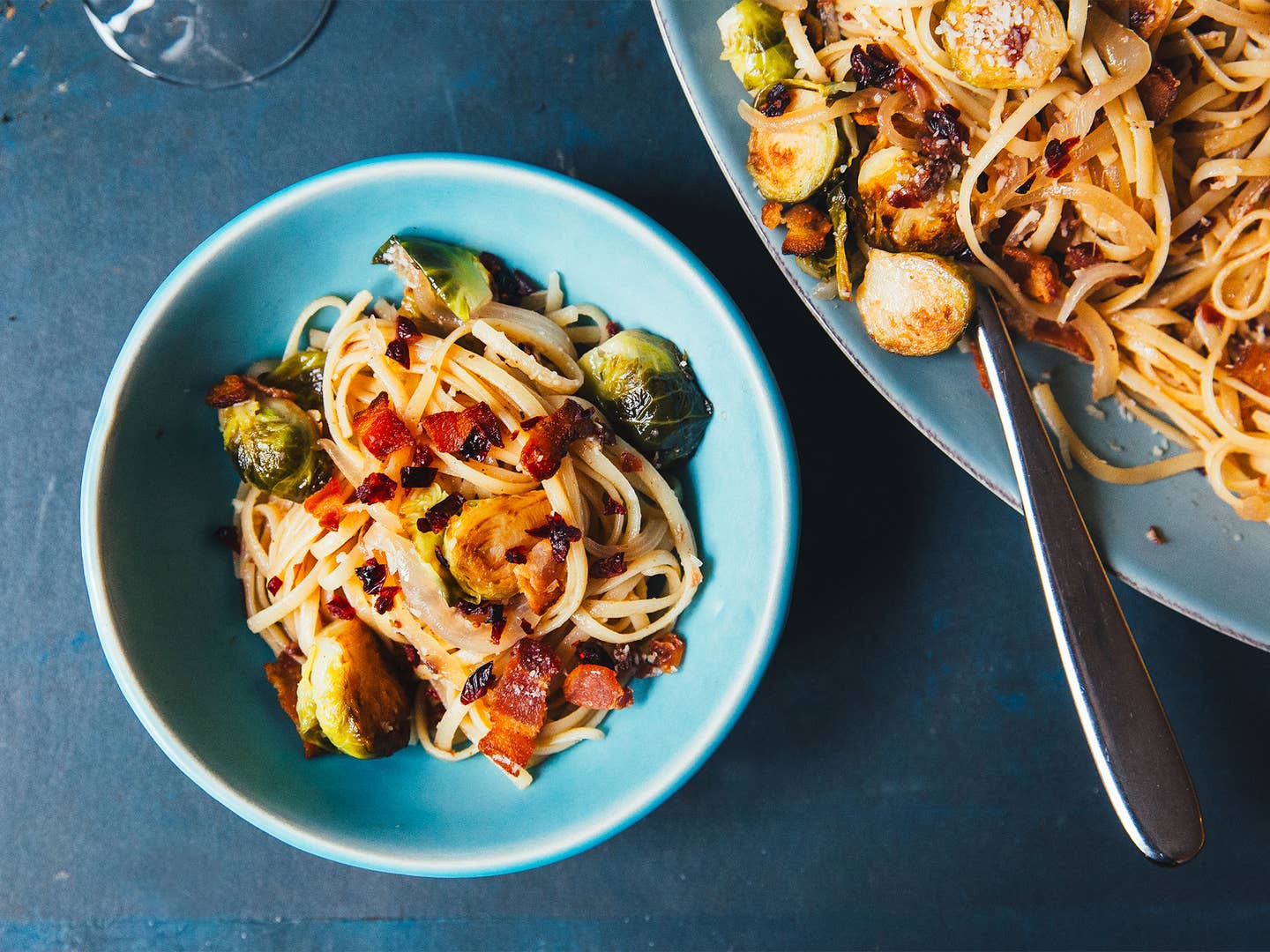 This multifaceted pasta draws on the very best flavors of autumn and winter. Inspired by a recipe that appeared on the blog Blue Kitchen, the tang of crisp-tender brussels sprouts are offset by sweet-sour cranberries, with a tangy vermouth-based broth adding yet another dimension of flavor.
Ingredients
4 bacon (about 4 slices), cut into 1/2-inch pieces
2 cups (about 12 oz.) Brussels sprouts, trimmed and vertically halved
1 medium onion, sliced
1 cup chicken broth
1⁄4 cup dry vermouth
1⁄2 cup dried cranberries, coarsely chopped
6 oz. fettuccine (or another long pasta like spaghetti)
2 oz. Parmesan cheese, coarsely shredded
Kosher salt and ground black pepper, to taste
Instructions
Step 1
Slowly cook bacon in a large, heavy-bottomed skillet over medium heat until fat is rendered and bacon is crisp, about 7 minutes. Remove bacon with a slotted spoon and drain on paper towels; set bacon aside.
Step 2
Increase heat to medium-high, arrange Brussels sprouts cut-side down in the rendered bacon fat and cook, without stirring, until sprouts begin to crisp and brown on the cut face, about 2 minutes. Add the onion and toss to combine with the sprouts; cook, stirring occasionally, until onion is translucent, about 4-5 minutes. Add the broth, vermouth, and dried cranberries, scraping up any fond from the bottom of the skillet, and bring to a fast simmer. Cover, reduce heat to medium, and cook until the sprouts soften, about 10 minutes.
Step 3
Meanwhile, cook the pasta until just al dente, reserving 1⁄4 cup of the cooking water. Transfer pasta to the skillet with the sprouts and liquid and toss continuously over medium-high heat for an additional 1-2 minutes, or until most of the liquid is absorbed. (If pasta is too dry, add reserved cooking water a tablespoon at a time.) Season with salt and pepper and serve garnished with Parmesan cheese and reserved bacon.