Recipes
Fig Tart with Apricot Sorbet (Tarte aux Figues, Matignon d'Abricots à la Sauge Ananas, Sorbet d'Abricot)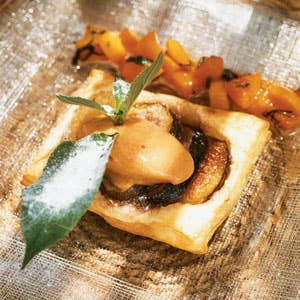 It can be tricky and time-consuming to make a puff pastry, so we suggest using a good-quality frozen puff pastry for this simple and elegant French dessert.
Ingredients
For the Apricot Sorbet and Relish
2 lb. ripe apricots, peeled, pitted, and coarsely chopped; plus 4 ripe apricots, unpeeled, pitted, and cut into large dice
1⁄2 cup granulated sugar
8–10 leaves pineapple sage, thinly sliced (optional)
5 tsp. fresh lemon juice
2 tbsp. Muscat de Beaumes-de-Venise (a fortified dessert wine from the Rhône valley)
1 tbsp. light brown sugar
For the Fig Tart
1 sheet frozen puff pastry, slightly defrosted
3–4 large fresh figs, trimmed and sliced lengthwise into 1/4-inch–thick slices
1 tbsp. butter, diced
1 tsp. granulated sugar
Instructions
Step 1
For the sorbet: Purée peeled apricots and granulated sugar together in a blender until smooth, 2–3 minutes. Pour purée into an ice-cream maker and process according to manufacturer's directions. Transfer sorbet to a container and freeze.
Step 2
For the apricot relish: Put diced apricots, sage, lemon juice, muscat, and sugar into a bowl, toss well, and let macerate for 1½–2 hours.
Step 3
For the tart: Preheat oven to 375°. Roll pastry out to ⅛" thickness, cut into four 3 ½" × 4 ½" rectangles, and transfer to a parchment paper-lined cookie sheet, placing the rectangles at least 1" apart. Arrange 3–5 slices of fig down center of each pastry, dot fruit with butter, and sprinkle with sugar. Bake tarts until golden brown, 20–25 minutes.
Step 4
To serve, put one tart on each of four dessert plates and top with a spoonful of sorbet. Divide the macerated apricots equally between the plates. Garnish each serving of sorbet with a small sprig of pineapple sage and fresh bay leaf, if you like.