Fonduta (Piedmontese Fondue)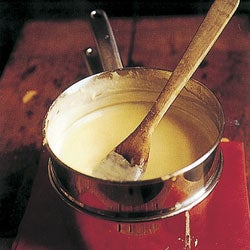 Fontina cheese from the alpine reaches of the Valle d' Aosta, Italy's smallest region, is traditional for this dish, but fontal—in effect, non-appellation fontina—may be substituted.
Yield: serves 4-6
Ingredients
10 oz. Fontina or fontal, rind trimmed, cut into small dice
1 cup milk
4 tbsp. butter
4 large egg yolks
Instructions
Put cheese and milk into a small bowl (add more milk if necessary to just cover cheese), cover, and set aside overnight.
Bring water in the bottom half of a double boiler to a simmer over medium heat. Put butter into top half of double boiler. When it has melted, stir in cheese and milk until cheese has melted.
Add egg yolks to cheese mixture one at a time, whisking constantly with a small whisk, until sauce is smooth, thick, and glossy, about 10 minutes. Pour the fonduta into a warm serving dish and serve immediately.