Recipes
Frisée Salad with Hazelnuts, Parmigiano-Reggiano, and Roasted Prune-Plums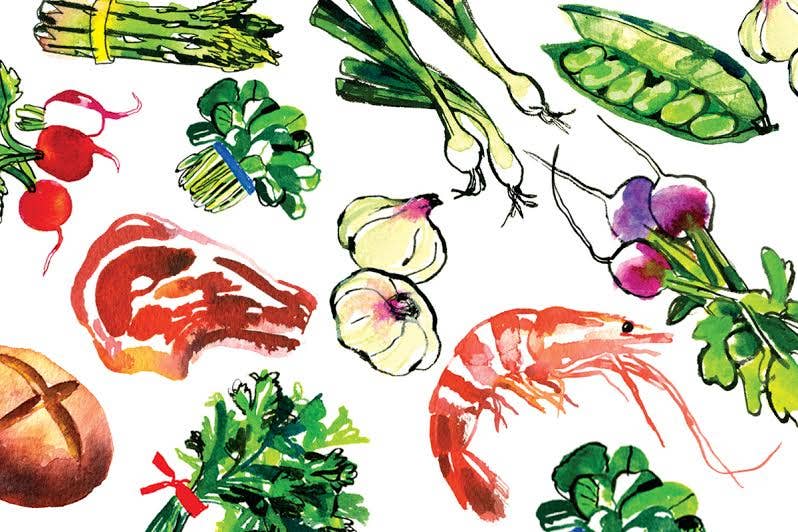 Zuni Cafe uses a variety of fruits for this salad, among them cherries, little bunches of grapes, and ripe figs. They also uses a range of greens, sometimes substituting mesclun or arugula for frisee.
Ingredients
12-16 shelled hazelnuts
6 small ripe prune-plums, pitted and halved or quartered
1 1⁄2 - 2 1⁄2 Tbsp. extra-virgin olive oil
Pinch sugar
Salt
3 oz. (6 cups) frisée leaves
1-2 tsp. red wine vinegar
1⁄4 tsp. hazelnut liqueur, such as frangelico (optional)
Small chunk parmigiano-reggiano
Instructions
Step 1
Preheat oven to 450°. Spread hazelnuts out on a small baking sheet and roast until skins darken, 4–8 minutes. Wrap nuts in a clean dish towel and rub off skins. Coarsely chop nuts and set aside.
Step 2
Put plums into a small shallow baking dish, toss with 1–2 tsp. of the oil, sprinkle with sugar and salt to taste, and toss again. Roast plums until warmed through and their skins start to blister, 5–15 minutes.
Step 3
Put frisée into a large bowl and toss with 1–2 tbsp. of the oil. Season to taste with salt, add vinegar, and toss well. Adjust seasonings. Add hazelnuts and liqueur (if using) and toss again. The salad should be heavily dressed and juicy. Add roasted fruit and gently toss again. Divide salad between 2 plates. Using swivel-blade vegetable peeler, shave some cheese over each salad. Serve with a couple of pieces of grilled or toasted crusty country bread, if you like.