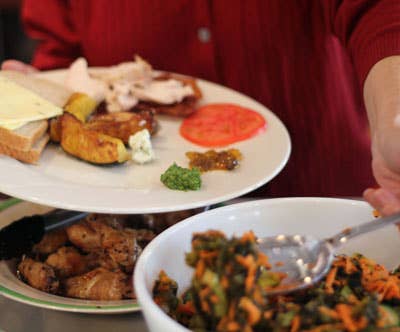 Techniques
From the Test Kitchen: Autumn Leftovers for Family Meal
Interns in the SAVEUR test kitchen have many responsibilities — testing recipes for the magazine, cooking dishes to photograph, shopping for exotic ingredients all over the city, making coffee — but my favorite part of the job is cooking family meal for the magazine staff. It's our chance to be creative with extra ingredients and delicious leftovers, a welcome contrast to the recipe testing process that requires exact amounts, ingredients, and techniques so that readers can replicate our culinary creations at home. When we make family meal, it's a lot of fun to see everyone emerge from their cubicles, venture into the kitchen, and take a break from work to chat and eat together. After pushing hard over the past few weeks to finish SAVEUR's December issue, we found ourselves with two refrigerators full of leftovers and a pantry packed with possibilities. With no immediate recipes to test, I decided to make our hardworking staff a fall feast for lunch.
MENU
Roasted Turkey Sandwiches
I sliced leftover turkey breast from the Turkey with Sauerkraut, Riesling, and Pork Sausages recipe from our November issue, and served it with whole wheat bread, sliced pepperjack and cheddar cheeses, homemade pesto, and bacon (also left over from the Turkey Choucroute).
Asian Pickled Greens and Cucumber salad
We had leftover pickled mustard greens (available in New York at Sunrise Mart, a Japanese grocery store at 29 3rd Ave.), an ingredient in a Taiwanese beef noodle stew recipe that will be in our December issue. I sliced some cucumbers (also a December issue leftover: they were from the raita yogurt sauce that accompanies an Indian chicken murgh), added grated carrot for some bright color, and rounded out the chilled salad with ponzu from our condiment shelf and some toasted sesame seeds.
Roasted Acorn Squash with Blue Cheese-Creme Fraiche Sauce
Hunter Lewis, our test kitchen director, has been experimenting with this delicious autumn squash, so we had a couple bags of squash wedges in the fridge. I tossed them in olive oil, salt, brown sugar and heaps of sage leaves and roasted them in the oven for about an hour. The dipping sauce — blue cheese crumbled into creme fraiche and stirred smooth with a handful of chopped herbs — was a great counterpoint to the squash's sweetness. (It also found its way onto several staff members' turkey sandwiches, a terrific twist I hadn't considered!)
Market Salad
After hosting several events in our test kitchen this week, there were four leftover boxes of arugula that we needed to clear out, so I made a large green salad. For a sweet note against the spicy greens, I sliced in apples from the Union Square Greenmarket; for the salt, I grated some parmesan cheese.