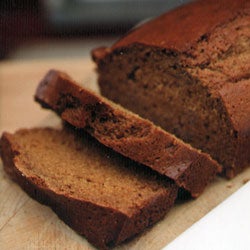 This cake is a favorite in South Louisiana, relying on the rich flavor of a famous local product, Steen's 100% Pure Cane Syrup. Reminiscent of gingerbread and spice cake, gateau au sirop is delicious plain or with a little fresh cream and cane syrup poured over it.
Gâteau au Sirop
Luscious and sweet, this sugarcane cake perfectly embodies Acadian cooking—and makes a fine dessert.
Ingredients
1⁄3 cup shortening
1⁄3 cup granulated sugar
1⁄3 cup pure cane syrup
1 large egg
1⁄2 tsp. baking powder
1 tsp. cinnamon
1 tsp. salt
1 tsp. freshly grated nutmeg
1⁄2 tsp. baking soda
1 1⁄2 cups sifted all-purpose flour
Instructions
Preheat oven to 350°. Place shortening, sugar, syrup, and 1⁄3 cup boiling water in a large bowl and stir to combine. In a small bowl, lightly beat egg; add to the shortening–sugar mixture. Sift together baking powder, cinnamon, salt, nutmeg, baking soda, and flour, and add a little at a time to the shortening–sugar mixture. Beat until smooth.
Pour batter into a greased 5″ × 8″ loaf pan and bake 35–45 minutes. Cool for 10 minutes in pan. Turn out onto a rack. Slice and serve warm.