Grilled Pork with Rice Vermicelli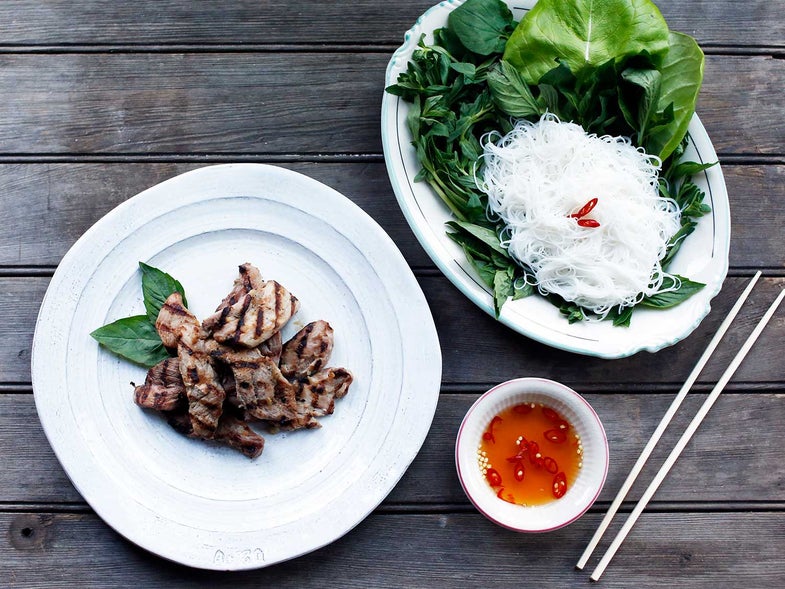 (Bun Cha)
Fish sauce is the soy sauce of Southeast Asia, part of almost every meal. It can be found in most Vietnamese markets along with rice vermicelli and the Vietnamese herbs called for in this recipe.
Yield: serves 4
Ingredients
For the Dipping Sauce
4 1⁄2 tbsp. fresh lime juice
3 tbsp. Vietnamese fish sauce
3 tbsp. sugar
1 small, fresh, hot red chile (thai or serrano), stemmed and sliced into thin rounds
For the Pork
1 small yellow onion, peeled and grated
2 tbsp. Vietnamese fish sauce
3⁄4 tsp. sugar
Freshly ground black pepper
1 1⁄2 lb. boneless pork butt, trimmed of fat and thinly sliced, then cut into 2″ × 1″ pieces
1⁄4 lb. dried rice vermicelli
1⁄2 head boston lettuce leaves, torn into pieces
1⁄2 bunch cilantro leaves, torn into pieces
1⁄2 bunch mint leaves, torn into pieces
Vietnamese herbs (optional), such as kinh giới and tiá tô, torn into pieces
Instructions
For the dipping sauce: Stir together lime juice, fish sauce, 1⁄4 cup water, sugar, and chiles in a small bowl until sugar dissolves. Adjust flavor with up to 1⁄4 cup water. Set aside.
For the pork: Mix together onions, fish sauce, and sugar in a medium bowl; season with pepper to taste. Add pork and mix. Cover and refrigerate for at least 1 hour. Meanwhile, bring a medium pot of water to a boil. Add rice vermicelli, cover, and turn off heat. Soak noodles until soft, 3–4 minutes. Drain, rinse with cold water, drain again. Set aside.
Preheat the grill. Remove pork from refrigerator 30 minutes before cooking. Grill pork over medium-hot fire until slightly charred and cooked through, about 1 minute per side. Transfer meat to a platter.
To serve, divide pork among four shallow bowls, then spoon sauce over meat. Arrange noodles, lettuce, and herbs in each of four deep bowls. Eat the pork and sauce with the noodles, lettuce, and herbs.