Recipes
Grilled Sea Bass Wrapped in Fig Leaves (Lavraki Stin Schara)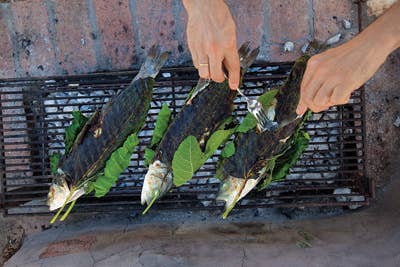 In this preparation, fig leaves perfume and protect the flesh of the fish. Serve with lemon-olive oil sauce.
Ingredients
4 (12–16-oz.) whole branzino or black sea bass, cleaned
Kosher salt, to taste
4-8 large fig leaves
4 tbsp. extra-virgin olive oil, plus more for oiling
Lemon and olive oil sauce
Instructions
Step 1
Build a medium fire in a charcoal grill or heat a gas grill to medium. Season fish inside and out with salt. Wrap each fish with a fig leaf or two so that leaf or leaves fully wrap around fish, leaving head and tail exposed. Brush each fish with 1 tbsp. oil.
Step 2
Transfer fish to a well-oiled grill and cook, turning once with a metal spatula, until fish are cooked through and fig leaves are charred and crispy, 10–15 minutes. Transfer fish to a platter and spoon sauce over top.