Recipes
Hanoi Noodle Soup with Chicken, Baby Tatsoi, and Bok Choy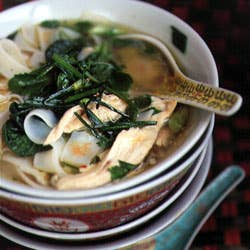 Baby tatsoi, sometimes called spinach mustard, has been an Asian staple for thousands of year. Its mustardy taste makes it a favorite for Vietnamese dishes.
Ingredients
8 cups chicken stock
2 tbsp. coarsely chopped fresh ginger
3 cloves garlic, peeled
1⁄2 cup fresh cilantro leaves
1⁄2 cup fresh mint leaves
2 whole chicken breasts, bone in
1 lb. bok choy, chopped
1⁄4 lb. 1/2"-wide bahn pho (Vietnamese rice noodles)
3 tbsp. finely chopped scallions
4 oz. baby tatsoi
Tuong Ot Toi (Vietnamese hot sauce)
Instructions
Step 1
In a medium stockpot, bring chicken stock to a simmer over medium heat. Add ginger, garlic, 1⁄4 cup each of the cilantro and mint leaves, and chicken. Simmer until chicken is cooked through, about 30 minutes.
Step 2
Remove chicken and allow to cool. Tear each breast into about 6 pieces, discard bones. Strain broth and return to pot over low heat. Add bok choy and simmer 5-10 minutes.
Step 3
Soak noodles in hot water until softened, 5-10 minutes. Cook noodles in boiling water until tender, about 3 minutes. Drain and rinse well with cold water.
Step 4
Divide noodles among six bowls. Add chicken pieces, scallions, remaining 1⁄4 cup each mint and cilantro, and tatsoi. Pour hot broth and bok choy over top. Serve with Tuong Ot Toi.