James Beard's Beef Stroganoff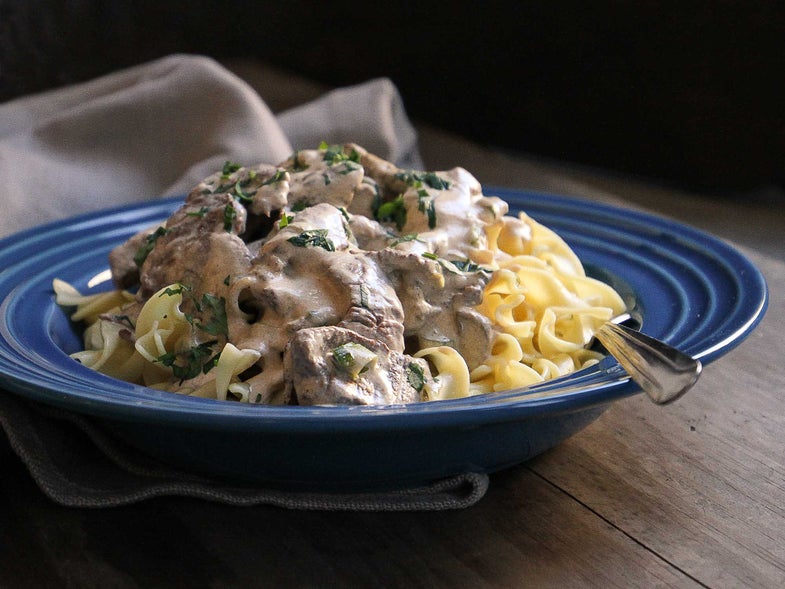 One of many timeless recipes featured in American Food Writing is James Beard's take on this comforting noodle dish. "There are many different versions," the chef writes in The James Beard Cookbook (Dell Publishing, 1959), the book from which the excerpt is taken. "Beware of those that specify long cooking. Beef stroganoff is much better when prepared quickly."
James Beard's Beef Stroganoff
One of many timeless recipes featured in American Food Writing is James Beard's take on this comforting noodle dish.
Ingredients
1 1⁄2 lb. beef tenderloin
6 tbsp. butter
1 tbsp. Olive oil
2 tbsp. chopped scallions
1⁄4 cup white wine or vermouth
1 1⁄2 cups sour cream
1-2 dashes A.1. sauce or worcestershire sauce
Kosher salt and freshly ground black pepper
Cooked egg noodles, to serve
Chopped parsley, for garnish
Instructions
In a 12-inch skillet, heat 4 tablespoons butter and the oil over medium-high. Working in batches, cook the beef, flipping once, until browned, about 1 to 2 minutes, and transfer to a plate.
Add the remaining 2 tablespoons of butter and the scallions and cook for 1 minute. Add the white wine or vermouth to deglaze and cook 1 minute more. Add the sour cream, worcestershire sauce, salt, and pepper and stir well. Reduce the heat to low and cook, stirring, until the sour cream is heated through, about 2 to 3 minutes. Remove from the heat and add the beef and it's juices and stir to combine. Serve over egg noodles and garnish with parsley.