Kumu with Lemongrass Sauce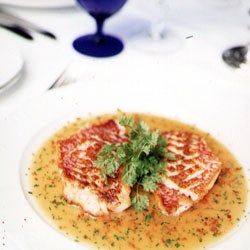 Kumu is a reef fish, similar to red mullet. It has a sweet, rich flavor and a pleasant texture.
Yield: serves 4
Ingredients
1 small carrot
1⁄2 small red pepper
1 stalk celery
1⁄2 cup <a href="https://www.saveur.com/article/recipes/homemade-fish-stock">Fish/ Stock</a>
1 tsp. minced shallot
1 tsp. ginger, peeled and minced
1 tsp. minced inner stalk of lemongrass
4 tbsp. butter
1⁄2 tsp. chopped tarragon
Salt and freshly ground black pepper
8 (3-oz.) kumu or red mullet filets
1 tbsp. peanut oil
4 sprigs chervil
Instructions
Peel carrot, pepper and celery, then cut into 1⁄8″ cubes.
Place carrots, peppers, celery, fish stock, shallots, ginger, and lemongrass in a saucepan and bring to a boil over medium-high heat. Lower heat and simmer until reduced by half. Whisk in butter and tarragon. Season to taste with salt and pepper. Cover and keep warm.
Lightly score skin sides of fish filets with a sharp knife. Season both sides of fish. Heat peanut oil in a large frying pan over medium-high heat until it just begins to smoke. Fry fish flesh side down for 1 minute, then turn and cook the other side for 2 minutes or until just firm.
Spoon sauce onto four plates and arrange fish on top. Garnish with chervil.