Lemon and Coriander Marinated Olives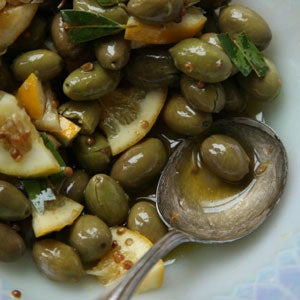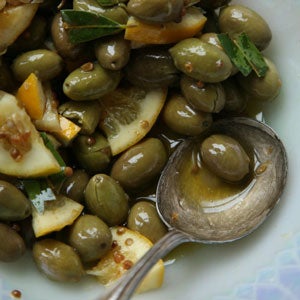 Chunks of lemon and cracked coriander seeds lend a bright flavor to these earthy olives. When making this dish, we prefer to use the nutty, cracked Cypriot olives called kipriakes elies, but you can use Italian cerignola or Spanish gordal olives and get equally good results.
Yield: serves 8-10
Ingredients
1 lb. cracked (but not pitted) green olives
1⁄3 cup extra-virgin olive oil
1⁄4 cup fresh lemon juice
2 tbsp. whole cracked coriander seeds
4 cloves garlic, bruised
3 fresh or dried bay leaves
1 lemon
Instructions
In a large bowl, mix olives with oil, lemon juice, coriander, garlic, and bay leaves.
Cut lemon into wedges lengthwise; cut each wedge crosswise into 1⁄2″-thick pieces. Add lemon pieces to olives; stir well to combine. Cover olives with plastic wrap and refrigerate for at least 8 hours or up to 1 month. Bring the olives to room temperature before serving.