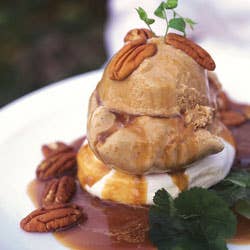 Recipes
New Orleans Delight (Meringues Topped with Coffee Ice Cream and Praline Sauce)
The late Alan Hooker, who founded the Ranch House restaurant in Southern California's Ojai Valley, once said his philosophy of desserts was to try "to invent things I felt people would like." He called this recipe "New Orleans Delight," and we like it a lot.
FOR THE MERINGUES:
2 egg whites
Pinch salt
¾ cup sugar
Dash vanilla extract
FOR THE PRALINE SAUCE:
1 cup firmly packed brown sugar
¼ cup light corn syrup
1 tbsp. butter
⅓ cup heavy cream
1 tsp. light molasses
Dash maple extract
FOR THE GARNISH:
1 pint coffee ice cream
24 pecan halves
1. For the meringues: Preheat oven to 275°. Whisk egg whites and salt in a bowl until foamy. Gradually incorporate sugar and vanilla; continue whisking until stiff peaks form.
2. Line a baking sheet with parchment paper. Spoon egg whites onto parchment, forming four 3" × ½" meringues. Bake until cooked through, 55-60 minutes. Remove meringues from parchment while still warm.
3. For the praline sauce: Stir together brown sugar, corn syrup, butter, heavy cream, molasses, and maple extract in a saucepan. Bring to a boil over medium heat. Stir constantly until sugar has dissolved and mixture reaches 220° on a candy thermometer, about 13 minutes. Remove from heat and allow to cool to room temperature.
4. To serve, place a meringue on each of four plates. Top each meringue with a generous scoop of ice cream, spoon ¼ cup praline sauce over ice cream and around meringue, and scatter 6 pecan halves over each dessert.