Orange, Pineapple, and Walnut Fruitcake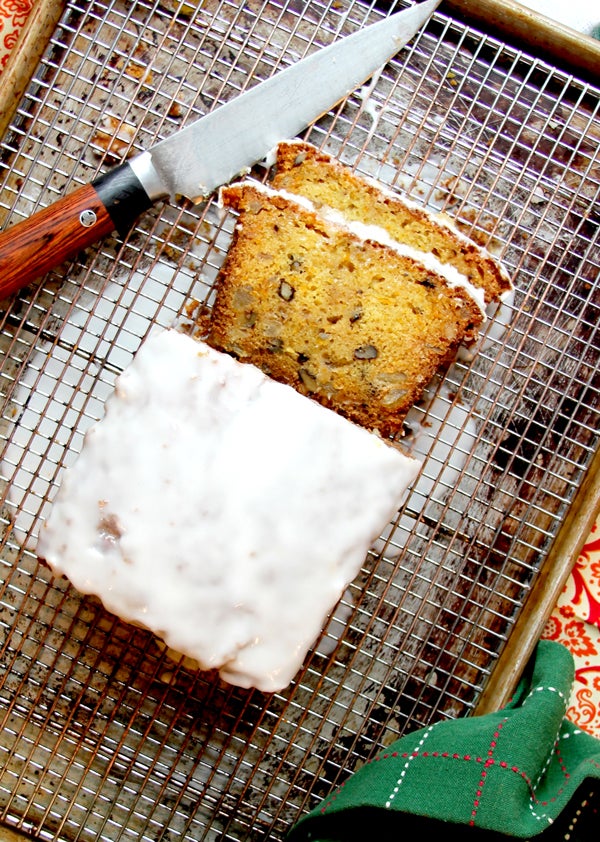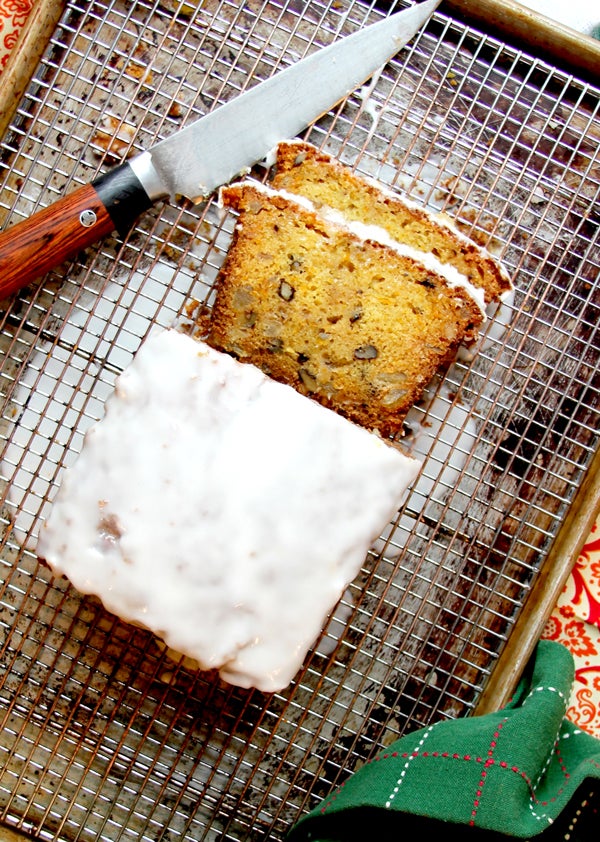 This sophisticated take on the classic Christmas fruitcake, developed by Renato Poliafito of Baked in Red Hook, Brooklyn, is far from a punchline. Sweet, spiced, and dense, with a bright rum glaze, it's a perfect holiday treat for giving as a gift—or for keeping to yourself. Read more about it in Renato's story My Life in Fruitcake »
Orange, Pineapple, and Walnut Fruitcake
This sophisticated take on the classic Christmas fruitcake is sweet, spiced, and dense, with a bright rum glaze, it's a perfect holiday treat for giving as a gift—or for keeping to yourself.
Ingredients
12 tbsp. butter, plus more for pan
1 1⁄2 cups chopped candied pineapple
2⁄3 cup dark rum
1 1⁄2 cups flour, plus more for pan
1 tsp. baking soda
1⁄2 tsp. salt
1 cup sugar
Zest of 2 oranges, plus ⅓ cup juice
3 eggs
1 tsp. vanilla extract
1⁄2 cup roughly chopped walnuts
1 1⁄2 cups confectioner's sugar, sifted
Instructions
Heat oven to 325°. Grease a 9″ x 5″ x 2¾" loaf pan with butter and dust with flour; set aside. Bring pineapple and ½ cup rum to a boil in a 2-qt. saucepan over high heat. Remove from heat and let sit until pineapple is soft, 15-20 minutes; set aside.
Whisk flour, baking soda and salt in a bowl; set aside. Using a hand mixer, cream butter, sugar and zest at medium speed until light and fluffy. Add juice, eggs and vanilla, scraping down the sides of the bowl as necessary. Add flour mixture and mix until combined; stir in reserved pineapple with its juices and walnuts and pour batter into prepared pan. Bake until deep golden brown and a toothpick inserted in the middle of the loaf comes out clean, about 1 hour 15 minutes; let cool for 10 minutes. Using a wooden skewer, poke holes all over cake. Pour remaining rum over cake, cover loosely with plastic wrap and let sit for 24 hours.
Whisk confectioners sugar and 2 tbsp. water in a bowl until smooth; drizzle over cake and let sit until glaze is set, 5-10 minutes.