Orecchiette with Rapini and Goat Cheese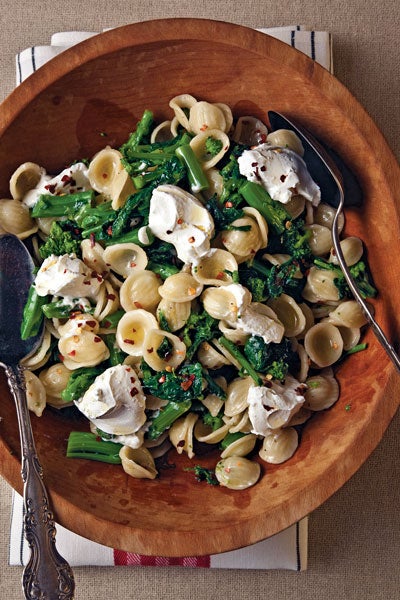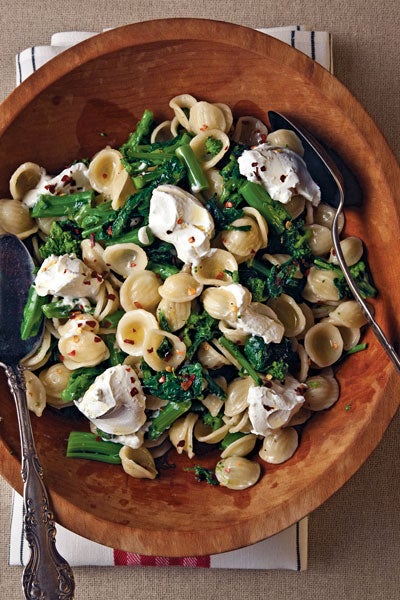 Slightly bitter rapini (also known as broccoli rabe), marries well with the tangy goat cheese in this dish.
Find this recipe in our cookbook, SAVEUR: Italian Comfort Food
Yield: serves 2-4
Ingredients
Kosher salt, to taste
1 bunch rapini (about 1 lb.), roughly chopped
1⁄3 cup extra-virgin olive oil
6 cloves garlic, crushed
3⁄4 tsp. crushed red chile flakes
12 oz. orecchiette
2 tbsp. lemon zest
4 oz. goat cheese, softened
Instructions
Bring an 8-qt. pot of salted water to a boil. Add rapini and boil until crisp-tender, about 4 minutes. Using a slotted spoon, transfer rapini to a large bowl of ice water; chill. Drain rapini, pat dry, and set aside.
Heat oil in a 12″ skillet over medium heat. Add garlic and cook, stirring occasionally, until golden, about 3 minutes. Add chile flakes and cook, stirring frequently, for 30 seconds. Add rapini, toss, and remove pan from heat; set aside.
Meanwhile, bring a 6-qt. pot of salted water to a boil. Add pasta and cook until al dente, about 10 minutes. Drain pasta and transfer pasta and lemon zest to reserved skillet over high heat. Toss to combine and season with salt. Divide pasta between bowls and add a dollop of goat cheese to each.
Pairing Note Pascal Jolivet's Attitude 2007, a lively sauvignon blanc from France's Loire Valley, is tailor-made for this dish; its acidity harmonizes with the rapini's bitterness. — David Rosengarten