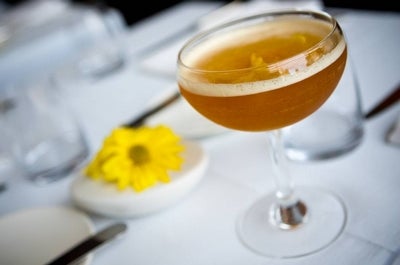 This cocktail was developed by mixologist Lynn House at Chicago's Blackbird restaurant. She explains: "The Oz is named after a jazz club that used to be here in Chicago. It was in my neighborhood and they were known not only for amazing music, but for their cognac and champagne selection. It was a favorite hang out of mine — and it was also the first place to serve Pierre Ferrand cognacs in the United States. When I met Pierre Ferrand's president Alexandre Gabriel this summer, he told me the story of his cognacs and mentioned the bar Oz. I lit up because I knew the place well, and I told him my next cognac cocktail would be called Oz in honor of our shared bond."
Oz Champagne Cocktail
For this complex cocktail, mixologist Lynn House shakes cognac with a vinegar gastrique before floating Gruet Blanc de Noir over the top.
For the Gastrique (makes about 3 cups)
3 cups apple cider vinegar
7 cups sugar
For the Cocktail
1 1⁄2 oz. cognac (preferably Pierre Ferrand Ambre)
1 1⁄2 oz. plum wine
1 1⁄2 oz. champagne (preferably Gruet Blanc de Noir)
1⁄2 oz. Lemon juice
1⁄2 oz. Apple cider vinegar gastrique
Instructions
For the gastrique: Combine ingredients in a saucepan; simmer until reduced by half. Cool before using.
For the cocktail: Combine all ingredients except Gruet in a mixing glass, add ice and shake until well chilled. Serve in a coup and float Gruet on top. Garnish with a lemon twist.