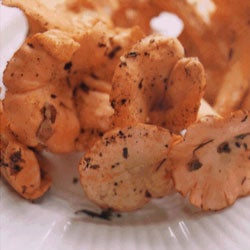 Delicious chanterelles abound in Ireland in the fall and are eaten both fresh and pickled.
Pickled Chanterelles
The peppery taste of the chanterelles holds ups well against the intense flavor of the vinegar and spices.
Yield:
makes 1 1/2 Pounds
Ingredients
1 1⁄2 lb. chanterelles
1 1⁄2 cups white wine vinegar
3⁄4 cup dry white wine
2 tbsp. salt
2 sprigs rosemary
3 cloves garlic, peeled
2 tbsp. coriander seeds
Instructions
Clean and trim chanterelles. Place in a pan with vinegar, wine, salt, coriander seeds, rosemary, and garlic.
Simmer for 5 minutes. Drain liquid. Place chanterelles, herbs, and spices in a sterilized jar. Add olive oil to cover and marinate, refrigerated, for at least 2, but no more than 4, weeks.