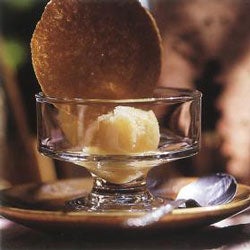 The sweet but tangy taste of this cool treat is perfect after a heavy meal. Allow this sorbet to chill in the freezer a day before serving to improve its flavor.
Yield: serves 4
Ingredients
2⁄3 cup sugar
1 pineapple, trimmed, peeled, cored, and cut into chunks
1⁄4 cup lime juice
Instructions
Create a simple syrup by placing sugar and 1 1⁄2 cups water into a small pot and boiling until the sugar dissolves. Let syrup cool, then chill in the refrigerator. Purée pineapple in a food processor, transfer to a bowl, cover, and refrigerate until cold.
Combine simple syrup, 2 cups of the pineapple purée, and lime juice in a bowl. Process mixture in an ice cream maker according to manufacturer's directions.