Polenta Pie with Gorgonzola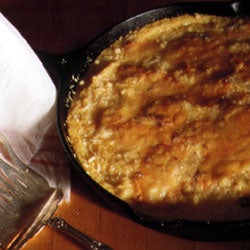 A light or medium-weight red with a spicy edge. Chianti's flavors of leather and spice seem like an easy choice.
Polenta Pie with Gorgonzola
This cheesy dish is to Italians what macaroni and cheese is to Americans—warm, homey, and comforting.
Ingredients
1 1⁄2 cups polenta
Salt
1 tbsp. butter
1⁄2 cup grated asiago cheese
1⁄2 cup crumbled gorgonzola
Instructions
In a large pot, whisk polenta into 4 cups cold salted water. Bring to a boil over medium heat, stirring constantly. Cook until polenta is the consistency of porridge. Lower heat and continue simmering for 5 minutes more; continue stirring constantly.
Add. butter and grated asiago cheese. Mix well, until the butter melts, then pour the polenta into a greased cast-iron skillet or ovenproof pan, spreading it evenly. Sprinkle gorgonzola over the top of the polenta.
Bake in a 350° oven for 25 minutes or until the cheese is bubbling and brown. Remove from oven and slice into wedges. This dish can be served hot or at room temperature.