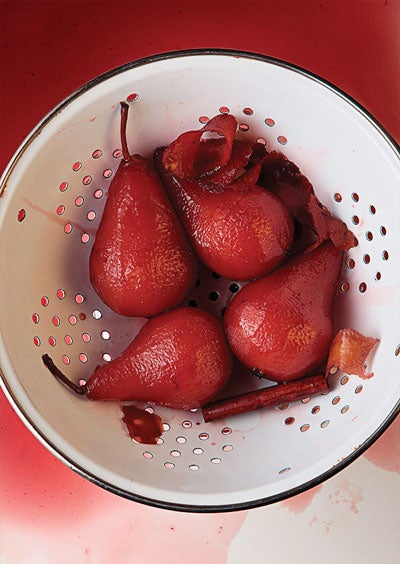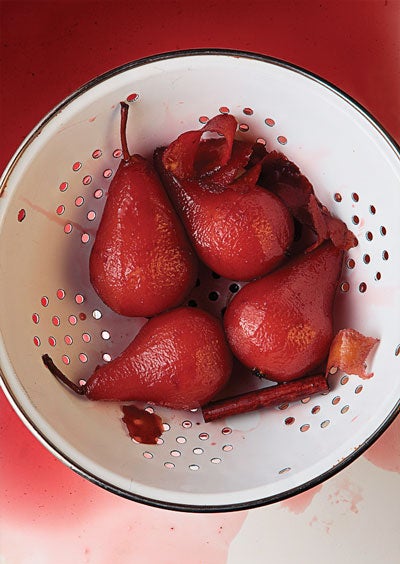 The recipe for this dessert comes from The New York Times International Cook Book (Harper & Row, 1971) by Craig Claiborne.
Yield: serves 4
Ingredients
1 cup port wine
3⁄4 cup sugar
3 (2″) strips orange peel
1 (2″) strip lemon peel
1 stick cinnamon
4 firm ripe Bosc pears
Ice cream, for serving
Instructions
Combine wine, sugar, orange peel, lemon peel, cinnamon, and 2 cups water in a 4-qt. saucepan over medium-high heat. Cook, stirring, until sugar dissolves, about 5 minutes. Remove pan from heat and set aside.
Cut 1⁄4″ from pear bottoms to make a flat surface. Peel pears and nestle them into bottom of pan containing wine mixture. Bring to a boil, reduce heat to medium-low, and simmer, covered, until a knife slides into pears with ease, 50–60 minutes. Remove from heat; let cool. To serve, transfer pears, cut side down, to 4 plates and drizzle some of the sauce from the pan over pears. Serve with ice cream.