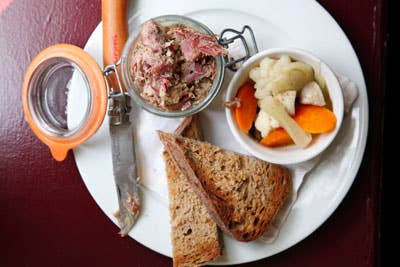 Recipes
Pot de Lapin au Foie Gras (Cook's Jar with Rabbit and Foie Gras)
Based on a recipe from chef Frederic Thevenet at Restaurant Aux Lyonnais, this rustic charcuterie is cooked in jars and tastes like the ultimate country-style pate. Let the jars sit in the refrigerator for at least a day after they're cooked to allow the flavors to meld, and serve them one or two per person with toasted bread, cornichons, and Dijon mustard.
1 large yellow onion, peeled and
halved
6 cloves garlic (2 cloves thickly
sliced lengthwise, 4 left whole)
1 tbsp. canola oil
1 celery stalk, ends trimmed
4 sprigs rosemary, 1 left whole, the
rest finely chopped
1 sprig sage
4 tsp. kosher salt, plus more to taste
1 1⁄2 tsp. freshly ground black
pepper, plus more to taste
1 3-lb. rabbit, legs removed, breasts
and saddle meat deboned and diced
into 1⁄2" pieces (bones reserved)
9 oz. coarsely ground pork tenderloin
8 oz. coarsely ground pork shoulder
8 oz. chicken livers, cut into
1⁄2" cubes
1⁄2 tsp. fresh thyme leaves, finely
chopped
1 1⁄2 cups champagne
4 cups duck fat
1 1⁄2 lbs. foie gras
Toasted slices of country bread,
cornichons, and Dijon mustard,
for serving
1. Using a butter knife, cut several 1"-deep slits in each onion half, pulling the knife side to side to widen the slits. Insert one garlic slice into each slit. Heat canola oil in a grill pan or skillet over high heat and char the onion on all sides, about 8 minutes. Remove pan from heat and set aside.
2. In a large pot, combine the grilled onion, celery, a sprig each of rosemary and sage, and 12 cups water. Lightly season with salt and pepper and bring to a boil over high heat. Add the rabbit legs and reserved bones, return to a boil, and reduce heat to medium-low; simmer until the rabbit is tender, about 1 1⁄2 hours. Transfer rabbit legs to a plate and let cool. Continue simmering rabbit stock until reduced to 1⁄4 cup, about 1 1⁄2 hours. Set a fine mesh sieve over a bowl and strain stock, discarding solids; chill. Pull the rabbit meat from the bones; shred meat, transfer to bowl with stock, cover, and chill.
3. In a bowl, combine diced rabbit breast and saddle meat, pork, chicken livers, and the chopped rosemary and thyme; season with pepper. Pour champagne over mixture and refrigerate for 6 hours.
4. Heat duck fat over low heat in a 4-qt. saucepan. Add the remaining garlic and cook until tender, about 30 minutes. Transfer garlic confit to a cutting board, reserving duck fat in pan. Mince garlic confit and transfer to a bowl; set aside. Reheat duck fat over medium-low heat until a deep-fry thermometer reads 200°. Add the foie gras and cook until an instant-read thermometer inserted into the thickest part of the lobe reads 127°, about 20 minutes. Using a slotted spoon, transfer foie gras to a plate, let cool to room temperature, then chill in the refrigerator. Trim any veins from foie gras and cut it into 1⁄2" cubes.
5. In a large bowl, combine shredded rabbit mixture, champagne mixture, and foie gras. Add the reserved garlic confit; season with 4 tsp. salt and 1 1⁄2 tsp. freshly ground pepper. Mix well.
6. Heat oven to 175°. Fill 8 sterilized jars with the mixture, leaving 1⁄4" head space (to relieve pressure), and seal. Place jars in a roasting pan and pour in boiling water to cover halfway up the side of the jars. Transfer to oven and cook until an instant-read thermometer inserted into a jar registers 136°, about 2 hours. Remove pan from oven and let jars cool to room temperature. Transfer jars to the refrigerator and let sit to allow flavors to meld for at least 1 day before serving. Serve jars on a plate with toasts, pickles, and mustard, if you like.