Recipes
Poussins en Cocotte "Bonne Femme" (Poussins with Bacon and Mushroom Sauce)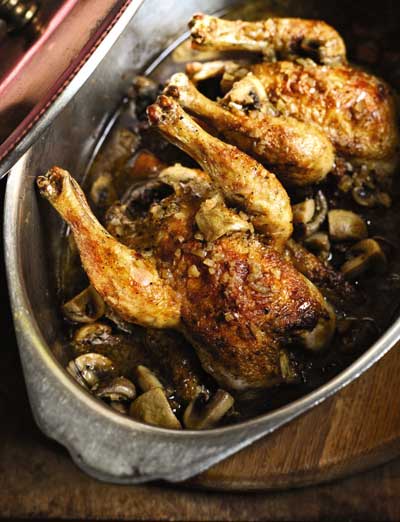 Even though the heydey of Le Veau d'Or, a French culinary fixture on the Upper East Side in Manhattan, is more than 50 years past, it's still a go-to for precisely executed, classic bistro fare. In the restaurant's pitch-perfect version of a rustic French dish called Poussins en Cocotte, spring chickens are braised in wine and stock until tender.
Ingredients
3 tbsp. butter
1⁄2 lb. slab bacon, rind discarded, cut into 1/2 " x 1 1/2 " strips
2 (1-lb.) poussins
2 shallots, peeled and minced
1⁄2 lb. button mushrooms, trimmed and quartered
1 cup dry white wine
1 cup beef stock
Salt and freshly ground black pepper
Instructions
Step 1
Preheat oven to 325˚. Melt 1 tbsp. of the butter in a medium ovenproof pot with a tight-fitting lid over medium-high heat. Add bacon and cook until dark brown and crisp, about 8 minutes. Remove bacon with a slotted spoon, transfer to a small bowl, and set aside.
Step 2
Pat poussins dry and place them in the pot. Sear poussins, turning them as often as necessary, until they are deep golden on all sides, about 15 minutes total. Using tongs, carefully transfer poussins to a plate and set aside.
Step 3
Reduce heat to medium and melt remaining butter in the pot. Add shallots and cook until just softened, 2-3 minutes. Add mushrooms and cook until just softened, about 1 minute. Add bacon, wine, stock, and salt and pepper to taste. Return poussins, breast side up, to the pot. Cover pot, transfer to over, and cook for 30 minutes. Increase oven temperature to 375˚, uncover pot, and continue to cook until sauce has thickened slightly, about 50 minutes.
Step 4
Remove pot from oven. Adjust seasoning in the sauce and serve poussins with the sauce and mushrooms spooned over each.