Rao's Spaghetti with Marinara Sauce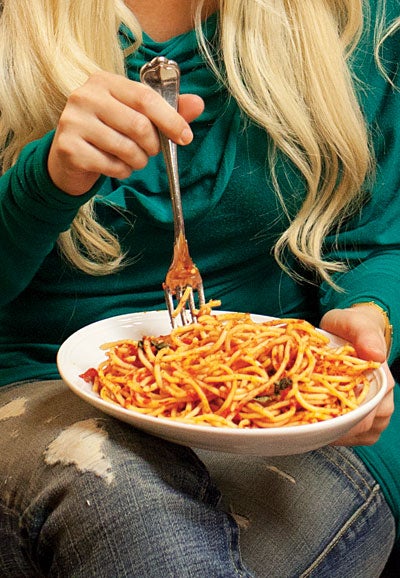 This Italian-American classic is adapted from the version served at Rao's in Las Vegas. This recipe first appeared in our April 2012 issue along with Holly Madison's story Backstage with Vegas's Favorite Showgirl
Rao's Spaghetti with Marinara Sauce
This Italian-American classic is adapted from the version served at Rao's in Las Vegas.
Ingredients
1⁄4 cup extra-virgin olive oil
4 oz. bacon, cut into 1/4″ cubes
1 tsp. dried oregano
8 cloves garlic, minced
2 small yellow onions, minced
Kosher salt and freshly ground black pepper, to taste
2 (28-oz.) cans whole peeled tomatoes in juice, crushed
1 lb. spaghetti
20 basil leaves, roughly torn
Grated Parmesan, for serving
Instructions
Heat oil and bacon in a 12″ skillet over medium heat; cook, stirring, until bacon renders its fat, about 10 minutes. Add oregano, garlic, onions, and salt and pepper; cook, stirring, until soft, about 8 minutes. Add tomatoes; boil. Reduce heat to medium-low. Cook, stirring, until sauce thickens, about 45 minutes. Meanwhile, bring a large pot of salted water to a boil, and add spaghetti; cook until al dente. Drain; add to sauce with basil, and toss. Sprinkle with Parmesan.