Recipes
Risotto di Zucca, Porri, e Vongole (Risotto with Butternut Squash, Leeks, and Clams)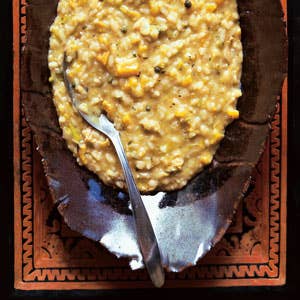 The secret of good Italian home cooking resides in the ingredients themselves. No one knows this better than the godmother of Italian cooking in America—Marcella Hazan. She too has many secrets and shared this one with us: "Do not serve any risotto mounded up in the center of the plate. Spread it thin and evenly over the whole plate."
Ingredients
1⁄2 lb. butternut squash, peeled, seeds and strings removed, and squash cut into dice no larger than 1/2"
18 live littleneck clams, scrubbed
1⁄4 cup extra-virgin olive oil
1 large or 2 medium leeks, trimmed, washed, halved lengthwise, then cut crosswise into very thin slices
2 tbsp. scallions, white part only, cut into very thin rounds
Fine sea salt
1 tbsp. chopped fresh marjoram, or 1/2 tbsp. dried marjoram
1 cup Italian risotto rice, such as carnaroli, vialone, nano, baldo, or arborio
1 cup dry white wine
1 tbsp. whole green peppercorns
1⁄2 cup grated pecorino cheese
Instructions
Step 1
Turn oven on to 350°. Lay the diced squash in a baking dish that can contain it all without overlapping. Pour in ½ cup water and put dish in the oven. Cook for 20 minutes. When cool, drain, then set aside.
Step 2
Pour ⅓ cup water into a 12" sauté pan, put in clams, cover, and turn on heat to high. Look in on clams after 1 minute, stirring them around. As soon as they unclench their shells, transfer them to a bowl. Keep heat going under pan, moving quickly to retrieve any clam that has opened up. Line a strainer with a paper towel and set it over a small bowl. Pour pan juices and any juice in bowl of clams through the strainer. Detach clam meat from shells and put it in bowl with the filtered juice. Steep clam meat for 15–20 minutes, then retrieve it with a slotted spoon and cut each clam in half. Reserve clam juice and cut-up clams separately.
Step 3
Pour 2 quarts of water into a saucepan and bring it to a steady simmer. Pour oil into a heavy 4–6-quart saucepan, add leeks and scallions, and turn on heat to medium-high. Cook, stirring from time to time, until leeks and scallions are very pale gold. Add half the squash together with some salt and cook for 2 or 3 minutes, turning it from time to time. Add marjoram and stir all the ingredients together. Add rice, turning it to coat well. Add half the wine, steadily stir the rice, and when all the wine has bubbled away, add the remaining half. Continue stirring to keep rice moving away from bottom and sides of pan.
Step 4
Pour clam juices into the risotto. Continue to stir until all the liquid has evaporated, then add a ladleful or two of the simmering water. Stir constantly, adding simmering water by the ladleful whenever the rice begins to dry out, threatening to stick to the pan. In about 15 minutes, when the rice is still hard and chalky to the bite, stir in the remaining squash. Continue to cook, stirring steadily and replenishing the water when necessary, until rice has lost its chalky consistency and is tender, but still firm, to the bite. Do not let rice dry out completely when you are near the end, keeping its final consistency loose and flowing.
Step 5
Add the reserved cut-up clams, stirring them quickly into the risotto. Add green peppercorns and grated pecorino. Remove pan from heat and stir vigorously. Taste and correct for seasoning. Serve at once.