Roasted Peaches in Bourbon Syrup with Smoked Salt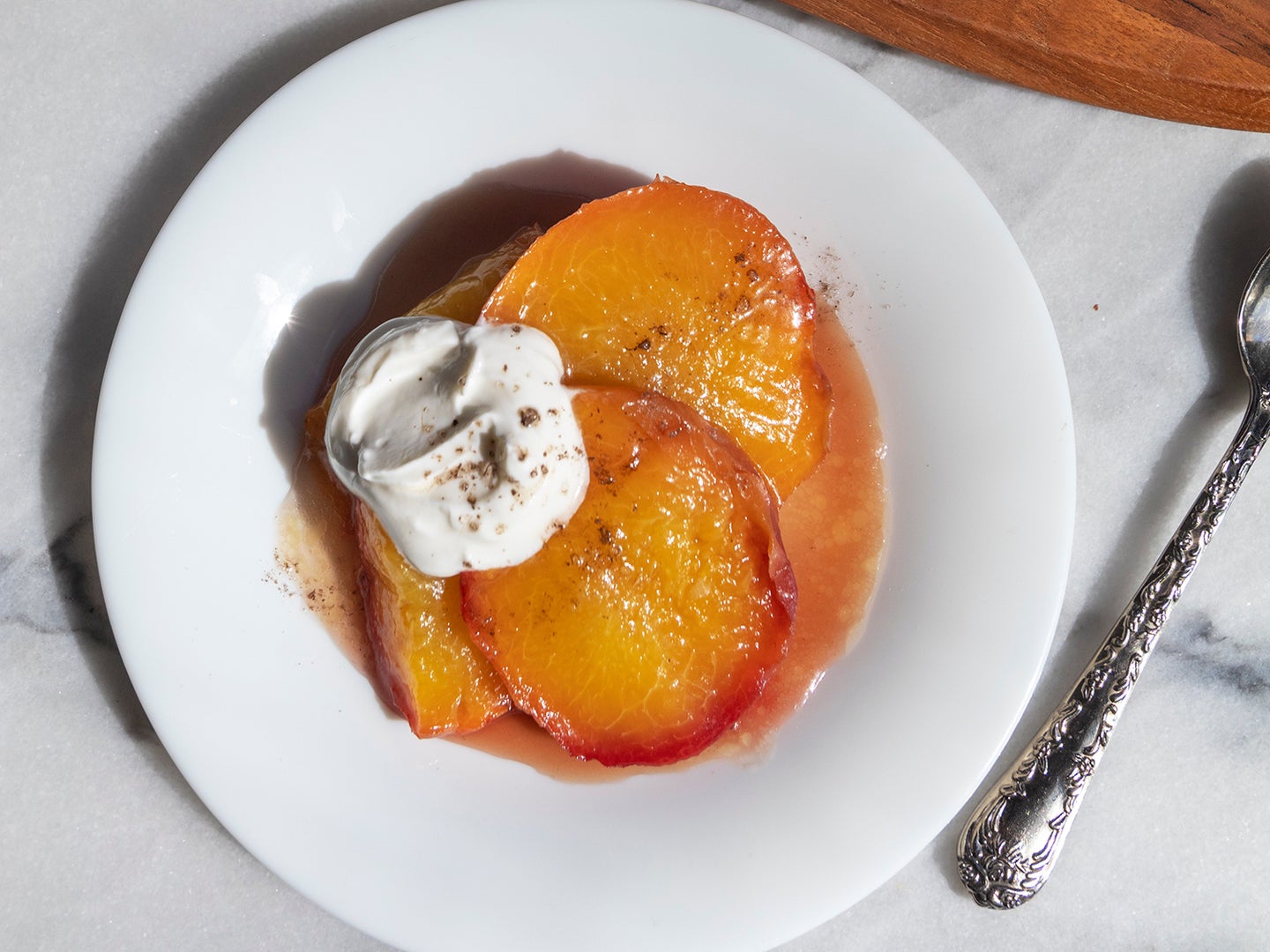 A handful of pantry ingredients—brown sugar, smoked salt, cinnamon, vanilla, and bourbon—transforms simple roasted peaches into a sublime summer dessert. Jessie YuChen
In his cookbook Salted, Mark Bitterman writes of this recipe: "Your first bite will expand the boundaries of sensation separating your mouth from the rest of your body, and you'll be feeling spiciness in the warmth of your hands and smokiness in the tingling of your toes. And by the third bite your mind will have moved on to peel the black backing off the edge of the universe, filling the unending space beyond with your pounding heart."
This recipe is excerpted from Salted by Mark Bitterman. Copyright (C) 2009 by Mark Bitterman. Excerpted by permission of Ten Speed Press, a division of Random House, Inc.
Roasted Peaches in Bourbon Syrup with Smoked Salt
Five ingredients—brown sugar, smoked salt, cinnamon, vanilla, and bourbon—and a turn in the oven transform peaches into a sublime summer dessert.
Time: 1 hour, 15 minutes
Ingredients
4 large, barely ripe peaches
1⁄2 cup water
1⁄4 cup lightly packed brown sugar
1 cinnamon stick, broken into 3 pieces
1⁄4 cup bourbon
1 tsp. vanilla extract
2 Tbsp. unsalted butter
Greek yogurt, crème fraîche, or caramel ice cream, for serving (optional)
4 two-finger pinches Maine apple-smoked salt
Instructions
Preheat the oven to 425°F. Put the peaches, stem-side down, in a baking dish large enough to hold the peaches without allowing them to touch one another. Poke each peach with a fork several times to keep them from bursting.
In a small saucepan, bring the water, sugar, and cinnamon to a boil over high heat. Remove the pan from the heat and stir in the bourbon, vanilla, and butter. Return the pan to low heat and simmer until the butter melts. Remove and discard the cinnamon pieces. Spoon the sauce over the peaches.
Roast the peaches for 10 minutes, then remove the dish from the oven and brush the peaches with syrup from the bottom of the dish. Return the dish to the oven and roast until the peaches are just tender enough to pierce with a fork, about 25 minutes more. Let cool for at least 15 minutes before serving. Serve one peach per person, with some syrup spooned over the top. Serve with a dollop of Greek yogurt or crème fraîche or a scoop of caramel ice cream, if desired. Sprinkle a two-finger pinch of the salt over each serving.