Recipes
Sea Bass with Blood Sausage and Sea Urchins (Llobarro, Cruixent de Botifarra Negra, Eriçons de Mar, i Salsa de Pa Torrat)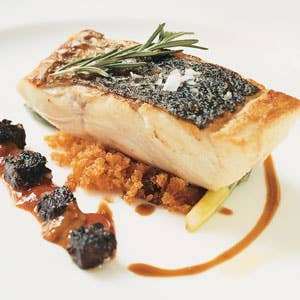 This dish of sea bass paired with the sea urchin, which carries with it the essence of the ocean, and the blood sausage, the essence of earth, is the perfect representation of Catalan and all its richness. Catalan blood sausage, or botifarra negra, isn't sold in the United States, but morcilla, another Spanish-style blood sausage, is available.
Ingredients
8 cups fish and shellfish stock
5 tbsp. butter, cut into small pieces
Salt and freshly ground black pepper
2 1⁄2 cups dry bread crumbs
1 cup goats' or cows' milk
5-7 tbsp. olive oil
8 cloves garlic, peeled and minced
2 oz. pancetta, finely chopped
2 oz. Spanish chorizo, finely chopped
1 tsp. paprika
4 (6-oz.) filets firm white-fleshed fish, such as sea bass, striped bass, or halibut
8 spears asparagus, trimmed to 5"-long pieces, ends peeled
7 oz. morcilla (Spanish sausage) sliced into 16 1/2"-thick pieces
12 small pieces sea urchin roe
4 small sprigs rosemary
4 pinches Maldon sea salt
Instructions
Step 1
Put stock into a large saucepan and boil over medium-high heat until reduced to I cup, about 1 1⁄2 hours. Reduce heat to medium. Add butter, 1 piece at a time, whisking thoroughly after each addition until sauce is glossy. Season to taste with salt and pepper. Keep sauce warm over lowest heat.
Step 2
Soak bread crumbs in milk in a bowl. Meanwhile, heat 2 tbsp. of the oil in a large heavy skillet over medium-low heat. Add garlic, pancetta, and chorizo and cook, stirring often, until pancetta fat is just rendered and garlic is soft but not browned, 8–10 minutes. Stir in paprika. Increase heat to medium and stir in soaked bread crumbs. Cook, stirring and scraping bottom of skillet occasionally, until bread crumbs are deep golden brown, about 25 minutes, adding a little more oil, if necessary, to prevent mixture from burning. Keep warm over lowest heat.
Step 3
Heat 2 tbsp. of the oil in a large skillet over medium heat. Using a sharp knife, make 2 shallow diagonal slits in skin of each fish filet to prevent fish from curling when cooked. Season fish with salt and pepper. Sear fish, skin side down, until skin is crisp, about 5 minutes. Turn fish and cook second side until fish is just cooked through, 5–7 minutes.
Step 4
Cook asparagus in a small pot of salted boiling water over high heat until tender, about 4 minutes. Drain and set aside. Heat 1 tbsp. of the oil in a small skillet over medium-high heat. Fry blood sausage until cut ends are crisp, about 45 seconds per side. Set blood sausage aside.
Step 5
To serve, divide asparagus between 4 warm plates. Put equal quantities of bread crumb mixture on top of asparagus servings, then spoon 2 tbsp. sauce on top of each. Arrange 4 pieces blood sausage and 3 pieces sea urchin roe on each plate, then spoon some of the sauce over sausage and roe and around plate. Put 1 filet of fish on top of each bread crumb-topped asparagus serving and garnish with rosemary and sea salt.