Soppressata, Tomato, and Olive Pizza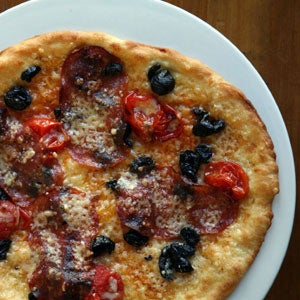 This homemade pizza is truly Italian with dry-cured salami, robust tomatoes and salty olives.
Yield: makes 1 12" pizza
Ingredients
1⁄4 cup Melted Tomatoes
6 thin slices soppressata
10 pitted black olives
2 tbsp. grated grana padano
1 tbsp. olive oil
Instructions
Make pizza dough according to instructions.
Dot dough with melted tomatoes, soppressata, and olives. Sprinkle with cheese; drizzle with olive oil.
Transfer pizza to a baking stone and cook pizza, under the broiler, rotating every 2 minutes with a long metal spatula, until edges are golden, 6-8 minutes.
Transfer pizza to a board; slice and serve.