Stewed Sweet Peppers (Peperonata)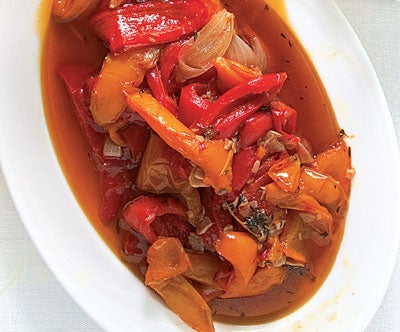 This sweet, simple pepper stew is an ideal use for summer's bounty of sweet peppers. It makes a great antipasto atop bruschetta.
Yield: makes 2 cups
Ingredients
1⁄3 cup extra-virgin olive oil
4 assorted red, yellow, and orange bell peppers, cored, seeded, and cut into 1/4″ strips
4 cloves garlic, thinly sliced crosswise
1⁄2 medium white onion, thinly sliced
Kosher salt and freshly ground black pepper, to taste
3 tbsp. red wine vinegar
Instructions
Heat oil in a 4-qt. saucepan over medium-high heat. Add peppers, garlic, onions, and 1⁄2 cup water and season with salt and pepper. Cook, partially covered and stirring occasionally, until peppers are soft, about 1 hour. Stir in vinegar and transfer to a serving bowl.