Sticky Rice with Mangoes (Kao Niow Mamuang)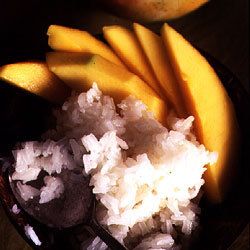 In Thailand, they use fresh coconut cream in this dish; substitute cream skimmed from canned coconut milk. Sticky rice can be found at Asian markets around the country.
Yield: serves 6
Ingredients
1 cup Thai sticky rice
1 cup coconut cream (or 1 13.5-oz. can coconut milk)
1⁄2 cup sugar
1 tsp. salt
2 mangoes, peeled and sliced
Instructions
Place rice in a large bowl. Add enough water to cover by 3″; soak for 3 hours, then drain.
Fill a wok with water and bring to a boil over high heat. Fit with a bamboo steamer, add rice, reduce heat to medium-low, and steam until rice is tender, 20–25 minutes. Transfer rice to a bowl and set aside.
Place coconut cream in a medium saucepan (if using canned coconut milk, spoon cream off the top). Add sugar and salt. Bring to a boil over medium-high heat and cook, stirring, until sugar dissolves, about 1 minute. Pour over rice, mix well, then set aside until liquid has been absorbed, about 30 minutes. To serve, spoon rice onto 6 plates and garnish with mangoes.