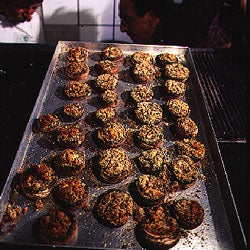 SERVES 6 – 8
Stuffed Mushrooms
These pillowy mushrooms surprise those who eat them with flavors that turn from delicately sweet to sharp.
Ingredients
18 large white mushrooms
3 tbsp. extra-virgin olive oil
Salt
1⁄4 cup marsala
1 1⁄2 cups fresh bread crumbs
1 cup grated pecorino romano
2 tbsp. finely chopped parsley
1 clove garlic, minced
Freshly ground black pepper
Instructions
Preheat oven to 375°. Remove and coarsely chop stems from mushrooms, reserving caps. Heat olive oil in a large, deep, nonstick skillet over medium-high heat. Add chopped mushrooms, season with salt, and cook, stirring occasionally, until mushroom mixture is dry, about 5 minutes.
Slowly add marsala. Cook until marsala has evaporated, about 2 minutes, then remove from heat and stir in bread crumbs. Set aside to cool, then add pecorino romano, parsley and garlic. Mix thoroughly.
Place mushroom caps in a single layer (rounded side down) on a greased cookie sheet. Spoon filling mixture into caps, drizzle with extra-virgin olive oil, season with pepper and bake until golden, 30-45 minutes. Serve warm.