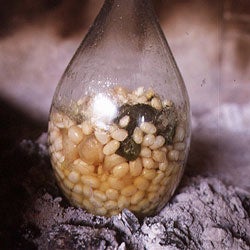 This simple preparation is a favorite way to prepare beans in Tuscany—home of the mangiafagioli, or bean eaters. NOTE: The cooking time for dried beans may vary; older beans often take longer to soften.
Yield: serves 6-8
Ingredients
1 lb. dried zolfini or cannellini beans
4 tbsp. fruity extra-virgin olive oil
2 cloves garlic, crushed
4–5 fresh sage leaves
3–4 whole black peppercorns
Salt and freshly ground black pepper
Instructions
Sort through beans, discarding any small stones; then rinse beans under cold running water. Put beans in a large earthenware casserole, cover with cold water, and set aside to soak for at least 4 hours or overnight.
Drain beans; then add 12 cups cold water, 2 tbsp. of the oil, garlic, sage, and peppercorns. Cover casserole, and bring to a simmer over medium heat, about 1 hour. Season to taste with salt, reduce heat to medium-low, and gently simmer, stirring occasionally with a wooden spoon, until bean skins are tender and interiors are soft, about 1-2 hours more.
Remove from heat, set aside, and allow beans to cool in the cooking liquid. To serve, reheat beans in the liquid over medium-low heat, drain them, and season to taste with salt and pepper. Drizzle beans with remaining 2 tbsp. olive oil.