Wild Blueberry Steamed Pudding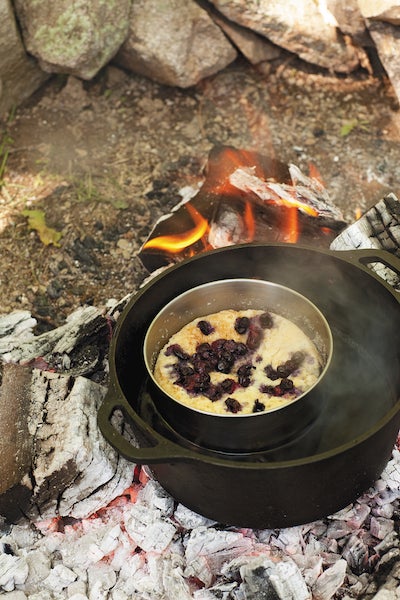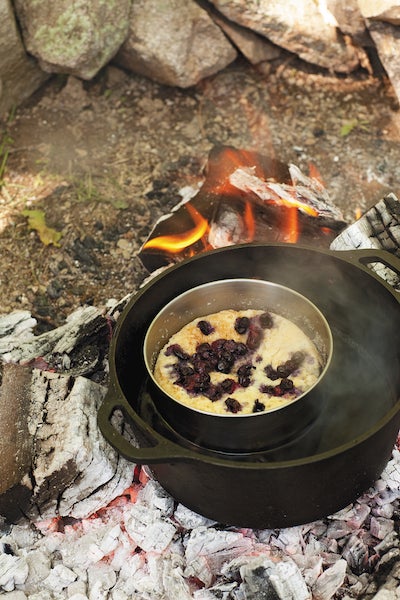 The recipe for this campfire dessert from from Sarah Huck and Jaimee Young's book Campfire Cookery: Adventuresome Recipes and Other Curiosities for the Great Outdoors (Stewart, Tabori & Chang, 2011) uses wild blueberries in peak season from July to October.
Wild Blueberry Steamed Pudding
This campfire dessert uses wild blueberries in peak season from July to October.
Ingredients
4 tbsp. (1/2 stick) unsalted butter, cut into pieces, plus additional for baking
1 cup sugar
1⁄2 cup whole milk
1 large farm-fresh egg
1 tsp. vanilla extract
Finely grated zest of 1 lemon
1 cup all-purpose flour
1 tbsp. baking powder
1⁄2 tsp. kosher salt
1 cup wild blueberries, gently rinsed and stemmed
4 smooth stones or a folded tea towel, for lining the pot
Instructions
Prepare a medium-high-heat fire, with the flames occasionally licking the grill grate. Let it burn steadily until glowing, ash-covered embers begin to form, about 45 minutes. Then use a coal shovel or other like implement to scrape a bed of embers to the side of the fire pit.
Drop the butter into a metal bowl and place it directly upon the grill grate. Allow the butter to melt, about 1 minute, and transfer the bowl to a resting place to cool slightly.
Add the sugar, milk, and egg to the butter and whisk until the mixture is light and frothy. Mix in the vanilla and lemon zest.
In a separate bowl, gently whisk the flour, baking powder, and salt just to combine. Dump the dry ingredients into the wet ingredients all at once, and fold with a spatula to form a batter. Don't be troubled if the texture is still a little lumpy, so long as there are no dry patches.
Generously butter a 1-quart metal bowl and scatter half the blueberries in the bottom of it. Scrape the batter on top of the berries. Scatter the remaining berries on top of the batter.
Place the baking stones or tea towel in the bottom of the Dutch oven. Rest the batter-filled bowl on top of the stones or towel. Pour enough water into the Dutch oven to reach halfway up the side of the bowl. Cover the pot and rest it on the bed of glowing embers. Shovel additional glowing embers on top of the lid. Allow the pudding to steam for 40 to 50 minutes, or until it is firm to the touch and a wooden skewer inserted in the center comes out clean. Allow the pudding to rest in the pot, uncovered, for 15 minutes before turning it out onto a platter. Cut the pudding into slices and serve.