Stir-Fried Mushrooms with Bacon, Green Chiles, and Scallions (Xiachao Niugan Jun)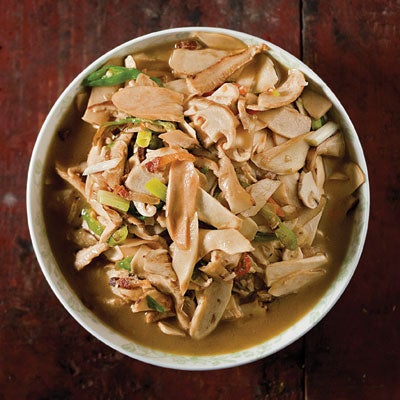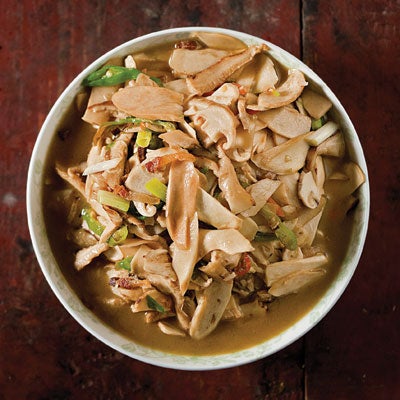 Duan Jan Pin, a cook in northwest Yunnan, makes this stir-fry with song rong mushrooms, but firm cremini are a fine substitute. Featured in: Season of Plenty
Stir-Fried Mushrooms with Bacon, Green Chiles, and Scallions (Xiachao Niugan Jun)
This Chinese mushroom stir-fry with bacon, scallions, and chiles is perfect over a bed of rice.
Ingredients
2 tbsp. canola oil
3 oz. slab bacon, cut into ⅛" matchsticks
10 oz. cremini mushrooms (about 16), thinly sliced
2 green Thai chiles, stemmed and thinly sliced
4 scallions, cut into ½" pieces
Kosher salt, to taste
Cooked rice, for serving
Instructions
Heat oil in a 14″ flat-bottomed wok or high-sided skillet over high heat; add bacon, and cook, stirring often, until its fat renders and it is crisp, about 5 minutes. Add mushrooms and chiles, and cook, stirring occasionally, until mushrooms release their moisture and soften, about 4 minutes. Add scallions and cook, stirring constantly, until fragrant, about 1 minute. Season with salt and divide between two shallow serving bowls; serve with rice.