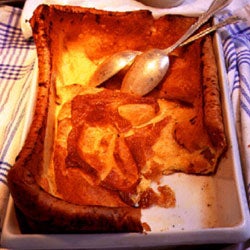 Believed to date back to the 12th century, Yorkshire pudding may have originated in the kitchens of King Henry II, where drippings from roasting mutton were used to flavor baked batters. This technique, most likely Saxon in origin, resulted in a "pudding" rich with meat flavor, but much heavier than the popover-like dish preferred today
Yorkshire Pudding
Believed to date back to the 12th century, Yorkshire pudding may have originated in the kitchens of King Henry II, where drippings from roasting mutton were used to flavor baked batters.
Ingredients
1 cup flour
3⁄4 tsp. salt
2 eggs
1 cup milk
1⁄2 cup beef drippings (see Roast Beef)
Instructions
Sift flour together with salt into a medium bowl. Make a well in center and add eggs. Whisk in milk. Mix until smooth. Set aside at room temperature for 1 hour.
Preheat oven to 450°. Pour beef drippings into a 10″ × 12″ baking pan. Heat in oven until smoking hot, 10 minutes. Pour batter into pan and bake, without opening oven door (to avoid collapsing pudding), until pudding has risen and is golden, 20 minutes. Serve immediately, offering a generous square with each piece of roast beef.