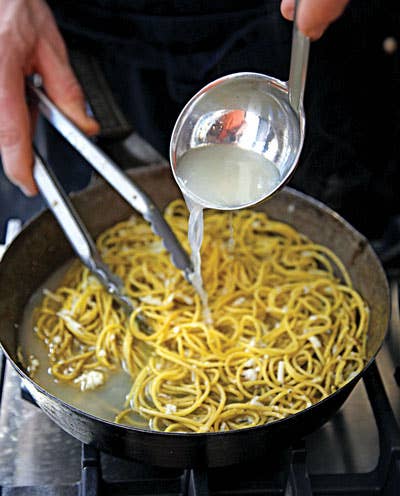 Techniques
3 Pasta Tips
Some of the most famous Roman pasta dishes (see Eternal Pleasures) contain just a handful of ingredients; the beloved cacio e pepe, for example, consists of nothing but pasta, cheese, oil, and black pepper (see Cheese and Pepper Pasta). What makes humble dishes like these so special is the way they are prepared: with subtle and time-honored techniques t
1. Toast your black pepper: Merely sprinkling preground pepper over the finished pasta won't come close to achieving the desired flavor in a classic cacio e pepe or carbonara sauce. Instead, crush whole black peppercorns in a mortar and pestle or grind them on the coarsest setting in a spice grinder. Then "toast" the cracked pepper by frying it in the olive oil you'll be using for the pasta sauce, heating it until it smells very fragrant.
2. Finish your pasta in the sauce: Here's a case where undercooking is the right thing to do. Boil your pasta until it's just short of al dente, then finish cooking it in the hot pan or skillet containing your sauce, tossing the pasta and the sauce together vigorously. This technique will cause the sauce to coat the pasta more thoroughly; it's the key to dishes like bucatini all'amatriciana (see Bucatini with Spicy Tomato Sauce).
3. Reserve some of your pasta water: Adding a few ladlefuls of salty, starchy pasta water to the pasta and the sauce as you toss them together will moisten your sauce and add an additional layer of flavor and body to the final dish. In the case of the cacio e pepe, it will also help the cheese to melt evenly, ensuring a creamy, emulsified sauce.