How to Make Chewier Cookies
Cakey vs. Chewy: Get the texture you want when baking cookies by adjusting the oven temperature.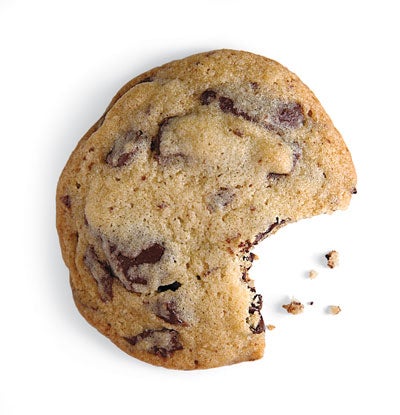 When testing the flat and chewy chocolate chip cookies (see Recipes of Record), we made two batches of cookies that came out, despite identical ingredients, with vastly different textures. Kitchen assistant Andy Baraghani made the first batch, following the recipe to the letter: finely process the chocolate and nuts, flatten the dough, and bake it in a low, 325-degree oven. His cookies turned out thin as wafers and irresistibly chewy. In a contrary mood, I deviated from the instructions, leaving the chocolate and nuts chunky, forgoing the flattening, and baking the dough in a hotter oven. My cookies were thick and cakey. The differences were attributable to our techniques: My higher oven temperature allowed my cookies to set before spreading, and the air pockets around the chunky nuts and chocolate in my cookies helped them stay puffy as they baked. Andy's dough, already flattened, had time to spread even thinner in his relatively cool oven. Moreover, his finely grated chocolate melted more readily, adding to the liquidity of his dough and contributing to its spread. Textural distinctions amply demonstrated, the flat and chewy cookies proved far more popular.