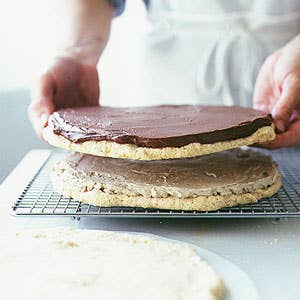 Don't be put off by the lengthy recipe. Dacquoise is as easy to make as a sponge cake—and far more impressive.
1. Lay meringues out on a flat surface. Carefully spread one-third of buttercream over each of two meringues with an offset metal spatula.
Spread all of the ganache over remaining meringue. Layer meringues on top of each other.
3. Placing the one with ganache in the middle. Spread remaining buttercream on sides of cake, filling in any gaps so the surfaces are smooth.
Cover cake with toasted almond slices and refrigerate. The dacquoise can be eaten after a few hours, but we prefer it the next day, when the meringues have had time to really soften.