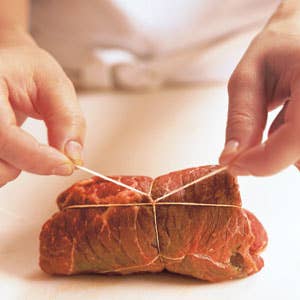 Italian food is easy to love, not least because, at its simplest, it can turn a few elemental ingredients quickly into a satisfying meal. But some Italian dishes are a bit more involved, requiring a little pounding, a little rolling, a little simmering, a little coaxing, to deliver their richer, more complex flavors.
Braciole, the classic braised Neapolitan meat rolls made so well by countless Italian-American cooks, is just this kind of dish. Although it may be made with veal, pork, chicken, even turkey, braciole is traditionally prepared with a tough cut of beef like top or bottom round. After being sliced, pounded thin, stuffed, and rolled into neat packages, the meat is simmered in a tomato sauce, a process that both flavors the sauce and tenderizes the meat.
1. Lay out pounded meat (we use beef top round) on a clean surface with one of the narrow ends facing you, then scatter filling along edge closest to you.
2. Fold long sides of meat over filling on either side by about 1/2" to keep filling from falling out as you roll.
3. Starting with the end closest to you, roll meat, encasing filling.
4. Tie rolled, stuffed meat securely with kitchen twine.