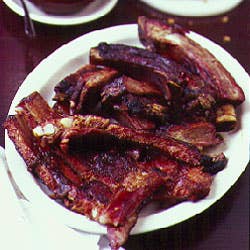 Here are six simple tips for barbecuing ribs, from Kansas City's "Baron of Barbecue," Paul Kirk.
1. The most common pork ribs are baby backs and spareribs, which can be cut into St. Louis ribs and a 2" slab of rib tips.
2. To remove membrane from baby backs (if butcher hasn't done so), use your fingers and start from center. For spares, use a clean screwdriver and begin at one end.
3. Dry rubs should be sprinkled onto, not massaged into, meat.
4. Lying ribs flat in a cooker is okay, but Kirk prefers to hang them so dripping fat acts as a baste.
5. If you're cooking for a crowd, try this tip for fitting several slabs of spareribs onto a standard-size grill: Trim breastbone from each slab, then pull around into a circle, secure with string, and cook for 4-5 hours, until bones can be pulled apart. If you opt to baste, untie ribs, return to grill, and baste with sauce until heated through. A final tip: The tied ribs may be wrapped and frozen.
6. Ribs are fine without sauce.