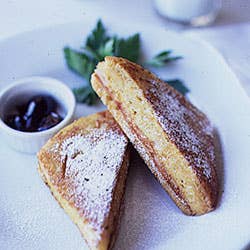 Techniques
Second Acts: Monte Cristo, Paprikás, and Turkey Hash
To us, a leftover holiday fowl is a culinary call to arms, awakening our creativity in the kitchen. Here are three easy post-feast dishes that make great use of each part of the bird.
The monte cristo sandwich could be considered the distant American cousin of the croque monsieur; it's an excellent upgrade from the typical dry turkey-breast sandwich. Layer a few slices of turkey breast and swiss cheese between 3 slices of buttered white bread. Dip the sandwich in a mixture of beaten egg and milk; fry in butter until crisp and golden brown.
The leftover dark meat from a turkey's thigh and drumstick makes a great addition to the paprika-spiked Hungarian stew called paprikas; we got the idea from Michael Field's Culinary Classics and Improvisations (Knopf, 1967). Saute 1 chopped onion in 4 tbsp. butter in a skillet over low heat. Add 1⁄2 cored, seeded, and sliced green bell pepper; soften. Stir in 1 tbsp. flour and 1 tbsp. hot paprika; whisk in 1 1⁄2 cups chicken broth. Bring to a boil while whisking; lower heat and add 1⁄8 tsp. each sugar and salt; simmer briefly. Beat an egg yolk with 1⁄2 cup sour cream; whisk into sauce. Fold in 2 cups diced thigh or drumstick meat. Add a little lemon juice; sprinkle with chopped dill.
The dark, flavorful meat from the wings makes for a very good hash. Fry some chopped onions and peppers in a heavy pan with a lot of butter. Add some cut-up boiled potatoes, chopped turkey, and a few dashes of worcestershire and hot sauce. Fry until well browned. Finish with a little cream. Serve with ketchup and a bottle of beer.