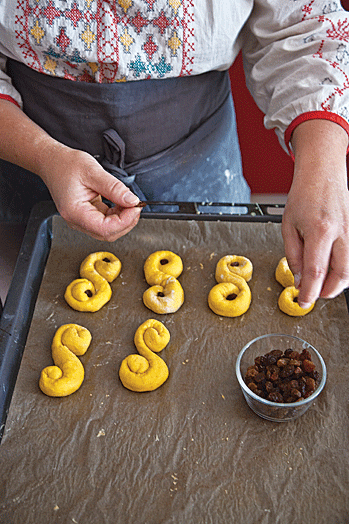 Techniques
Shaping Saffron Buns
Swedish saffron buns, called_lussekatter_, can be made in a number of traditional shapes; here's how to create the distinctive double-spiral form called for in our recipe.
1. Using a pastry scraper or a large knife, divide the dough into quarters, then cut each quarter into 8 equal-size pieces.
2. Working with 1 dough piece at a time (and setting aside the remaining dough pieces on a baking sheet until you're ready to shape them), use your fingers to roll dough piece into an 8"-long rope.
3.Twist 1 end of the segment toward its center and curl the end into a tight spiral shape until you reach the middle of the rope.
4. Repeat with the other end, twisting in the opposite direction, so that you end up with an S-shaped pastry. Transfer shaped dough pieces, spaced 2" apart, to 4 baking sheets lined with parchment paper. Cover the baking sheets with plastic wrap and let the buns rise in a warm spot for 30 minutes.
5. When ready to bake, place a raisin in the center of each spiral.