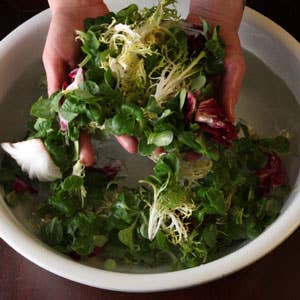 Techniques
Three Chef's Techniques
User-friendly techniques we return to again and again.
The recipes in some chef's cookbooks are as likely to require an immersion circulator as a whisk, but we found a number of user-friendly techniques in the many volumes we have read. Here are three we return to again and again.
Segmenting Citrus This method for removing juicy citrus sections from their fibrous membranes comes from Andrew Carmellini's Urban Italian.
Using a small, sharp knife, cut about one half inch from each end of the fruit, exposing the flesh. Set the fruit on one end and slice off strips of peel and white pith, using a steady downward motion and following the curve of the fruit, rotating the fruit as you go. Holding the fruit over a bowl, slowly slice between the membrane and the edge of each segment's flesh; let each segment drop into the bowl.
Washing Greens Simply rinsing salad greens before using them can leave behind unwanted soil. When David Tanis, author of A Platter of Figs, washes salad greens, he follows these steps to eliminate all traces of grit.
Fill a clean sink or basin with cold water. Discard the lettuces' tough outer leaves and trim away stems. Gently agitate the lettuces in the water; allow any soil to sink to the bottom. Form a net with your hands and lift the lettuces, allowing water to drain through your fingers. Transfer greens in batches to several kitchen towels. Stack the towels in layers, roll loosely, and refrigerate.
Making Creme Fraiche This technique for making creme fraiche, also from A Platter of Figs, yields a result that is more luxurious than store-bought versions.
Heat 2 cups heavy cream (not ultrapasteurized) over medium-high heat to just under a boil. Pour cream into a nonreactive bowl and let cool to room temperature. Stir in 1⁄4 cup buttermilk or plain yogurt. Cover with a kitchen towel and let sit at room temperature for 12-24 hours, until thickened. The cream will keep in the refrigerator, covered tightly, for about 10 days.