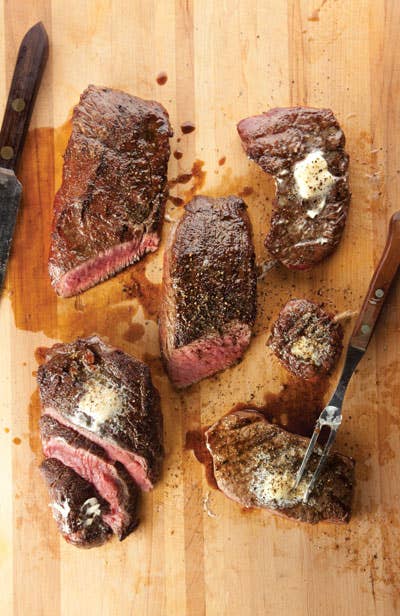 Techniques
New Steak Cuts
In the 2013 SAVEUR 100, we took stock of our favorite things: recipes, people, places. We consider every last one a new classic.
The most exercised parts of a steer—the shoulder (known as the chuck) and the hind leg (the round)—can be the most flavorful. But because of their heavy use, these muscles can be tough, and they're usually assigned to hamburger or pot roast when processed by packinghouses. Thankfully, the beef industry is beginning to learn what many butchers have long known: That embedded in, those muscles are cuts worthy of attention—hence these delicious new steaks that have recently started appearing in markets.
Tender and full of beefy flavor, the Denver steak, cut from the chuck, is perfect for grilling. The shoulder clod, a meaty muscle, yields several new cuts, including the ranch steak, good for marinating and grilling, and the shoulder petite tender, a succulent muscle that can be tied and roasted like a tenderloin. (The round petite tender is a similar cut from the round.) The tougher braison, from the heel of the round, is best for braising, while the flavorful merlot cut, from the side of the heel, is a lean, versatile steak, good for everything from stir-fries to grilling to pan-broiling.