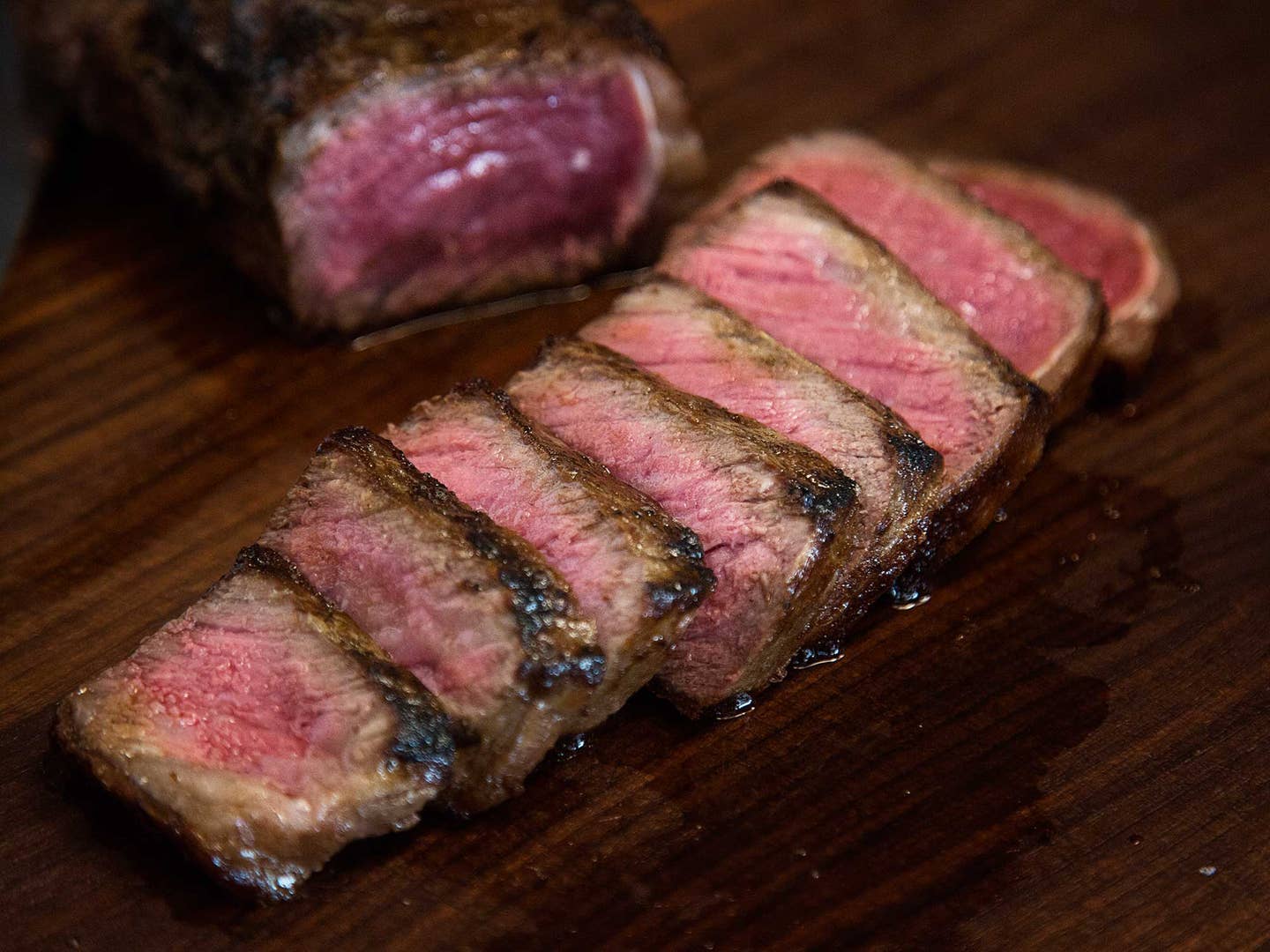 Techniques
How to Cook Steak on the Stove
No grill? No problem. Try our easy stovetop steak method.
Presentation is a major part of cooking steak and while flavor is king, a crispy brown sear is essential for replicating that coveted steakhouse experience at home. And as much as we love cooking steak on the grill, sometimes that just isn't an option. Fortunately, it's entirely possible to master that perfect sear by cooking steak on the stove.
Our quick and easy stovetop steak method requires just two simple tools: a heavy skillet and a meat thermometer. And while cook times will vary based on your preferred level of doneness and the size of your steaks, this method can be applied to any cut of steak (or chop!) . Check out some of our best steak recipes, then throw open a window or turn on the exhaust vent and try your hand at cooking steak on the stove.
1. For the deepest seasoning and browning, salt your steaks generously with kosher salt before cooking. Letting the salted meat rest overnight in the fridge will give the best results, but if you can't plan that far ahead, try seasoning the meat an hour before cooking and letting it rest at room temperature.
2. When it's time to cook, a very hot skillet is key: High heat will drive away any surface moisture from the steaks, giving you a deeply-browned and crispy crust. We prefer a cast-iron skillet or other heavy-duty pan that will retain its heat and will not warp from extended use over high temperatures. Brush the skillet lightly with canola or vegetable oil, and heat until wisps of smoke rise from the surface. Place the steak in the center of the pan and sear it well on the top, bottom, and edges, using a pair of sturdy kitchen tongs to turn the meat as each side browns.
If cooking multiple steaks, do not crowd the pan; doing so will cause the temperature of the metal to drop and sabotage your sear. Cooking a thinner steak rare to medium-rare calls for little more than a hard sear; for thicker cuts or for a more well-done temperature, finish the steak by popping it (still in the skillet) into an oven preheated to 400°F. Cook to 145°F for medium, 150°F for medium-well, 160° for well.
3. There are dozens of techniques for guesstimating doneness, but the only truly reliable way to gauge it involves a meat thermometer. We prefer a precise, digital version with a high temperature range that can run triple duty for candy making and deep-frying (hello, steak frites), too.
4. When the steak is nearly done, drop a knob of butter and a few dashes of Worcestershire sauce into the pan and start basting the meat continuously. The hot fat will crisp up the crust even further while adding a deep buttery flavor, lending the steak an appealing luster.
5. Before digging in—and this is important—let the steak rest for 5 to 10 minutes, depending on the size. This results in a more luscious steak by allowing the juices to redistribute and prevent them from flowing out from the meat once it is cut. To serve, sprinkle with coarse or flaky finishing salt and freshly cracked black pepper.