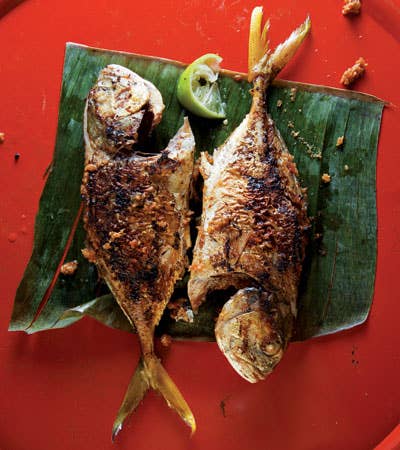 Travel
Hungry City: Eating Through Ipoh
Gingery dumplings. Coconut milk curries. Spicy noodle stir-fries. The city of Ipoh, Malaysia is a vibrant melting pot of Asian cuisines
"Are you hungry?" my uncle Taru asked when he picked me up from the bus station in Ipoh. I collapsed into the passenger seat of his car and confessed that I was famished: It had been a long journey from my home in New York to my mother's native city a couple of hours north of Kuala Lumpur, the capital of Malaysia. And, besides, I said, eating is the main goal of this trip.
It had been 20 years since I last saw my uncle, and he was exactly as I remembered him: friendly, fun, young at heart despite his 54 years. A high school history teacher, he's one of the last of my mother's siblings remaining in Ipoh; the others have migrated to the capital or out of the country over the years, like my mom did in the early 1970s. As we drove into downtown, past the palm oil trees that line the road, Ipoh seemed much more modest than a city of 750,000 people; the low-slung buildings and narrow streets gave it a small-town feel. We pulled up next to a vendor pushing a wooden cart selling ais kacang, a delicious treat of sweetened shaved ice that is my mother's favorite thing in the world. The vendor piled a fluffy mound of the ice in a bowl, drenched it with brightly colored fresh fruit syrup and liquid palm sugar, sprinkled it with sweet corn kernels and cubes of chewy agar-agar and grass jelly, and topped it all off with a drizzle of sweetened condensed milk. Though I hadn't been back to Ipoh since I was a small child, this was one Malaysian specialty I remembered well. "The food in Ipoh is just as good as ever," my uncle said. "You'll see."
His words and the ais kacang energized me. I knew from my parents, and from the books and websites I had been devouring lately to learn more about my heritage, that one way to better understand what it means to be Malaysian—or part Malaysian, in my case—was through the country's cuisine. My mother is a second-generation Malaysian born in Ipoh to a family that emigrated from Punjab, in northwest India. (She met my father—an Indian from Bangalore—while studying nursing in England.) Her family came to Malaysia, like many Punjabis, during this part of the country's tin mining boom of the early 20th century, a period that brought not only Indians, but Chinese as well—along with their different cuisines.
The food I grew up eating at home in the suburbs of New York City, where my parents eventually settled, was a pastiche of Malaysian and American staples. There were lots of rich and complex curries, but also dishes like char kuey teow, a savory stir-fry of tender rice noodles, shrimp, bean sprouts, fresh chives, and the pork sausage that Mom picked up at a local Chinese grocery. And juicy chicken and beef satay, grilled over charcoal and basted with lemongrass-infused oil. There were tuna casseroles and burgers and lasagnes, too. At our house, meals tended to be mix and match affairs, bringing together dishes from the different cuisines that captivated Mom's appetite. I gleaned that this is what it's like to eat in Ipoh. But my childhood memories of the place were hazy enough that this time around, it would be much like visiting for the first time.
Uncle Taru pulled into OldTown White Coffee—a chain, he explained, but one that celebrates the Chinese coffeehouse culture that's specific to Ipoh. I knew that "white coffee," a strong brew served with sweetened condensed milk, was an invention of Chinese tea sellers who set up shops in Ipoh's Old Town about a hundred years ago. But the dishes we ordered weren't Chinese. They were part of the rich culinary heritage of the ethnic group that began migrating to this part of Malaysia, probably from Borneo, around 1,500 years ago. We had nasi lemak, a dish of rice cooked in coconut milk and flavored with turmeric, and rendang ayam, a curry of chicken and coconut milk that's slowly simmered until the liquid is cooked away and the meat is caramelized on the outside and lusciously juicy within.
As we ate, my uncle explained: True, Ipoh is revered across Malaysia for its Chinese cooking—about 70 percent of the population here is Chinese, and the city's dim sum is considered some of the best in the country. But Malaysia's entire culinary heritage is represented in Ipoh, and that makes for a dramatic convergence of ingredients and flavors. The country—comprised of former British colonies and territories that united to form a nation in the early 1960s—is spread out over two land masses divided by the South China Sea. Ipoh lies in the western portion, on the Malay Peninsula, which extends southward from Thailand. Malay people brought to the Peninsula a style of cooking that resembles other tropical Southeast Asian cuisines in that there are chile-hot coconut milk curries and stews seasoned with brightly flavored ingredients like galangal and lemongrass as well as belacan, a pungent fermented shrimp paste. People from India—predominantly Tamils from the south, but also Punjabis and other groups from different parts of the country—brought with them curries spiced with cumin, turmeric, and mustard seed, as well as soupy lentil and chickpea dals, buttery griddled flatbreads, tandoor-roasted meats, and vegetables like cauliflower and eggplant. And there are the many foods that came from southern China along with Hakka and Hokkien immigrants: the long-aged, salty-sweet "double black" soy sauce; the tofu; the starchy noodles, dumplings, and buns; and the vast array of dim sum that Ipohites snack on day and night. Perhaps even more extraordinary than the diversity of foods on offer is the fervor with which they're all embraced. "To be a citizen of Ipoh," my uncle said, "is to know and love food."
Over the course of the next few days, I went out for breakfast, lunch, and dinner—and numerous snacks in between—with my uncle and his wife, my Aunt Manjit. Some mornings, we'd begin our days by picking up a roti canai (pronounced roh-tee chen-eye), a freshly made Indian flatbread griddled in ghee and served with a lentil dal. "Everyone eats roti canai," Uncle Taru said. "No matter what your background is." Other mornings, we'd go out into the streets and choose from the dozens of vendors there: Chinese noodle makers lined up next to Malay cooks selling pisang goreng (batter-fried bananas) and other breakfast snacks.
With so many choices for eating out, it's a wonder my family spends any time at all in the kitchen. Of course, they do cook; they just tend to round out their homemade dishes with prepared favorites they've purchased. One evening, my aunt took me to her favorite pasar malam, or night market. At one table we came upon a young Malay man making popiah, a kind of fresh spring roll. My aunt wagged her finger and asked him to slow down so that I could observe his process. He was waiting on a number of different customers at once, but he graciously showed me how he spread the translucent rice-flour wrapper with a sticky hoisin-style sauce. He then sprinkled it with chopped dried squid, julienned jicama, chopped peanuts, fresh cilantro, and sliced green onion, finally adding a drizzle of chili sauce and then rolling it all up, sealing it snugly, and slicing it into bite-size pieces. My aunt bought a half dozen, and later that night we ate them, along with lok lok—Malaysian-Chinese skewers of meatballs, fish balls, roast pork, sliced squid, chicken, and more—and some water spinach she'd stir-fried in a wok. It was like my mother's table all over again: a delicious hodgepodge of different cuisines, perfectly at home together.
Once I'd had a chance to get my bearings in Ipoh, I made a date with Honey Ahmad, a cheerful, seemingly tireless 34-year-old native of the city and the editor of the culinary website FriedChillies. Among the sources I had tapped over the years to explore my Ipohite roots, FriedChillies had become a favorite. I met Ahmad at a coffee shop called Sun Yuan Foong, and she suggested I order tauge goreng, a heap of Ipoh's famous bean sprouts stir-fried quickly with garlic, a splash of soy sauce, and chives until they were just wilted.
"This is one of Ipoh's signature dishes," Ahmad explained. "The groundwater here is full of minerals, so our sprouts are fatter and crunchier than others." Whatever the reason, they were the most delicious bean sprouts I have ever tasted: salty-sweet and bursting with juice. Ahmad smiled, pleased at my obvious and enthusiastic approval, and then gave me a taste of her chee cheong fun. Amped up with sesame oil, chili sauce, and sliced pickled peppers, these Chinese steamed rice noodle rolls were fantastic. If my uncle was right, and loving this food was the prerequisite to being a citizen of Ipoh, I was definitely starting to feel like one.
The next day Ahmad took me to the most famous of the city's dim sum palaces, Foh San, a sunny banquet hall. "It's packed every single morning," she told me. The place serves more than 100 different dim sum dishes; it was full of people happily noshing, using chopsticks to grab whatever tempted them from the various plates and bamboo steamers crowding their tables. We could have made a meal of the buns alone: big, fat bao stuffed with roast pork, or shrimp, or chicken and bok choy, or any number of other fillings. The yong tau foo, a Hakka specialty of vegetables or tofu stuffed with pounded mackerel, was light and delicately flavored. We ordered several rounds of this, including versions made with skinny eggplants and bitter melons, the mackerel stuffing seasoned with sesame oil and white pepper, and the whole thing steamed until meltingly tender. Over the course of several hours, we feasted on tender har gao (shrimp dumplings), custard tarts, and dozens of other irresistible dishes. I pointed out that, even though Ahmad isn't herself Chinese—her family's heritage is Indonesian—she certainly knows her way around a Chinese menu. "Well, I grew up eating this food," she said. "I've never thought of it as something foreign."
As delicious and exciting as all of this food was, after a week of meals at teahouses, cafes, markets, hawker centers, and street carts, I had to admit: I was craving an honest-to-goodness home-cooked dinner. And so I was delighted to be invited to the home of my great-uncle Chenna and his wife, Rato. They live in a town 15 miles outside of Ipoh called Batu Gajah, where many Punjabis first settled generations ago. My mother had lived with them while she was finishing high school, and they welcomed me into their home as if they'd just seen me yesterday.
After a few questions about my family in the States, they fell comfortably into discussing the latest local gossip. At the broad table in their dining room, they fed me Indian foods I recalled fondly from childhood: aloo gobi (sauteed cauliflower and potatoes with turmeric) and freshly griddled chappati flat-breads, hot and buttery as any Punjabi would demand. But we also ate rendang ayam, that slow-simmered, spicy Malay chicken dish. We all tucked in eagerly, and Aunt Manjit proclaimed, "We eat everything in this country, you know. There's no difference between this Indian dish and that Chinese dish. In Malaysia, we'll eat it because it's good."
I thought about the meals I'd enjoyed over the past few weeks and it suddenly came to me—in no instance did I see Chinese, Malay, and Indian influences fused together in a single dish. Instead, dishes from all three cultures share space on the table. But then there is always room for cooks of different stripes to bring their own interpretations to a recipe; the rendang we were eating, for example, was made in a soupier style than the classic Malay version. For dessert, there were Chinese pineapple tarts my aunt had picked up at the market. "We're Indian," she said as she served them, "but we're also Malaysian." Luckily, the same goes for me.