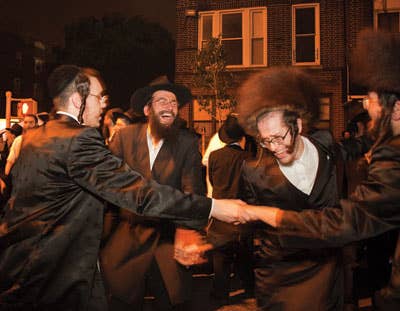 Travel
Season of Rejoicing: Celebrating Sukkot in Crown Heights
In Crown Heights, Brooklyn, the holiday Sukkot is a celebration of life, community, and autumn's bounty.
It's a brisk fall evening on Kingston Avenue in Crown Heights, Brooklyn, a thoroughfare lined with kosher bakeries and restaurants. Tough it is almost midnight, many stores are still open and several blocks have been cordoned off by the police. I am in a crowd of hundreds of women angling for a glimpse of the revelers before us: A sea of men in black and white, most wearing wide-brimmed hats, spinning, beads of sweat dripping from their beards as they match the frenetic pace of the music pumping from a stage in the street. I can't help but cheer a little. The joy is infectious.
The cause of the revelry is Sukkot, Judaism's seven-day celebration of thanksgiving. In Crown Heights, the center of the Lubavitch Jewish community, it's referred to by its Hebrew name, z'man simchateinu, the Season of Our Rejoicing. Sukkot commemorates the Jews' 40-year trek through the desert following the Exodus from Egypt. It's also a harvest festival, a weeklong marathon of praying, studying, partying, and perhaps most important, feasting.
Growing up in a multifaith family, I didn't celebrate Sukkot. Even as I became more interested in my Jewish heritage after my father's death when I was 16, I still overlooked the holiday. Then a couple of years ago, my husband, Daniel Berson, and I visited his family in Denver for Sukkot, and I fell in love with it. All meals during the holiday are consumed in a sukkah, a temporary hut built to honor those biblical desert meals. The first two nights and final evening of Sukkot are marked with lavish feasts; in the interim days, the huts become rest stops, their tables laid with finger foods and one-pot meals. At my first Sukkot dinner, we sat around a patio table bundled up in jackets, and savored our food beneath the stars. Like picnicking, eating our rice-stuffed acorn squash and warm apple crisp in the sukkah elevated the experience above the daily concerns of our lives.
After that, I wanted to learn more about the holiday: I remembered hearing that in Crown Heights, not far from where my dad was raised, there are massive Sukkot festivities. Thousands of Lubavitchers come to the neighborhood each year from as far away as the Middle East, Europe, and South America. It's considered a mitzvah (good deed) to open your sukkah to guests, so nearly every home in this roughly 100-square-block community has its own, some big enough to host hundreds. Crown Heights is the center of this sect of ultraorthodox Hasidic Jews, home to approximately 15,000 followers, a number that swells to 20,000 during Sukkot. The group is united by a devout observance of Jewish law—all keep kosher, avoid working on Sabbath, and follow dictates of dress and behavior. Yet because of the people's far-flung origins, the holiday table can be a wonderful pastiche of global Jewish foods. I wanted to try them all.
I knew that gaining access to this tight-knit group would be a challenge, so I called the Center for Kosher Culinary Arts, in Brooklyn. The director, Jesse Blonder, immediately said, "I've got the lady for you." Elka Pinson, one of the academy's founders and a real macher (big shot) in the Crown Heights community (she's also a psychologist and a part-time matchmaker), would be an ideal guide. After one conversation with Pinson, I knew I was in good hands. "Sukkot is the ultimate time," she told me, but I needed to be ready to celebrate "literally all night."
On a Monday, I join Pinson in her home kitchen. She is an energetic woman, and wears a colorful scarf that covers her hair. We are there to cook with her daughters, Bluma, 17, and Mushky, 22, and her mother, Rita Jacobs. Elka's refrigerator shelves are already groaning with salads and dips—garlicky eggplant spread and sesame techina—which the girls place in the family's sukkah for passing late-night revelers. There are poppy-seed cookies called pirishkes, a recipe from Elka's grandmother Goldie. Elka offers me a taste of another of Goldie's specialties, a nutty plum strudel.
There are no religiously prescribed dishes for Sukkot, but patterns emerge on the holiday's menus. "You need practical, durable food," says Elka. "It has to taste good, but it can't be too delicate, too fussy." The foods tend to alternate between warming dishes, perfect for meals in the chilly autumn air, and ones that can be eaten cold. Casseroles are popular, as are stews like tzimmes, made with root vegetables. Tzimmes is eaten throughout the year by Ashkenazi Jews (who have roots in Central and Eastern Europe), but its inclusion of fall produce—like carrots, parsnips, and plums—makes it a staple of this harvest holiday. Stuffed vegetables also represent the season's bounty, and Jacobs fills cabbage leaves with ground beef and rice. She tops them with a sweet-and-sour tomato sauce, whose candied flavor represents hopes for a sweet new year. Elka uses a similar sauce for her stew of savory fish balls.
Elka and her mother also make kreplach, pasta filled with minced chicken, which is traditionally served in broth on Sukkot's final day. I watch as they roll the dough paper-thin and cut out small circles. Jacobs spoons the ground meat onto the rounds, giving each a twist so its sides cling together. "Otherwise they spill out," says Jacobs, "and you get meat soup."
The foods of Judaism are inherently tied to the practice of the religion, so while the flavors are different from North Africa to the Americas, the meaning behind each meal is shared, and the similarities are inescapable. I discover this as Elka leads me from home to home, affording me the opportunity to taste Sukkot's delicious range. In many kitchens, I sample slow-cooked foods, the kind that get better as they sit untended on the hearth, a delicious and universal result of the restrictions on cooking during Sabbath.
At the home of Elka's friend Tanya Rogal-sky, we try t'fina pkaila, a Tunisian stew of spinach, white beans, flanken (beef short rib), and boulettes—meatballs with plenty of cilantro, mint, and parsley—which Tanya serves over couscous with a side of chickpea salad. We also go to see Elka's friend Tiki Dean, who is Yemeni and, unlike her Ashkenazi neighbors, embraces heat during this holiday of sweet foods. She makes a zesty za'atar dip and a fiery Yemeni schug, a spread of jalapeños, cilantro, and garlic. Dean also prepares cumin-scented ground beef that's wrapped in dough (a cousin of kibbeh, in which the filling is fried in a shell of bulgur wheat and lamb). The snacks and dips are perfect for a quick bite before returning to the streets to dance.
Inside the sukkah, just big enough for two long tables and a mess of chairs, the bam-boo-and-cedar-branch roof gives off an earthy fragrance. Elka has left me in the able hands of Gershon and Rochel Leah Eichorn, both masterful cooks. They're expecting 120 or so guests over the next several days, and tonight's feast is about to commence. We recite blessings over the wine and Rochel Leah's eggy challah, which we then dip in honey.
The meal is passed around the table, family style. Salads make their way first—my favorite is crisp cauliflower with black olives and roasted peppers. For the soup course, we slurp bowls of chicken stock, which Gershon simmered for more than six hours, using plenty of feet and knee bones. Then we tuck into the main courses: minute steaks with ginger and apricot sauce, and chicken cutlets baked with garlic and lemon. They're served with savory noodle kugel, a satisfying, pepper-spiked casserole.
With dessert—marble and honey cakes--the men drink schnapps while humming wordless songs called nigunim. As we eat, more guests arrive: a group from Argentina, visitors from Australia. It's hard to tell who has been invited and who has shown up unannounced, but I'm learning that for the Lubavitchers, there's little distinction. We're all welcome to eat.