Friday Cocktails: St. Dill Martini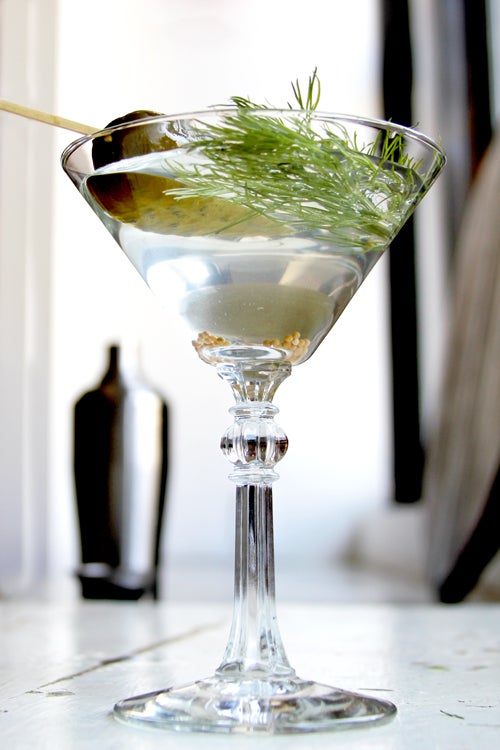 Brother and sister Alex and Natasha Pogrebinsky hail from Kiev, Ukraine. At their 2-year-old restaurant in Long Island City, New York, The Bear, Natasha makes the kind of Eastern European food that's as delicious and soul-satisfying as my Ukrainian grandmothers' was, but also smart, fresh, fascinating. This isn't peasant food; it's intellectual, upscale, urbane. It harkens back to the Kiev of the siblings' noble ancestry, one traced to the 13th century. But it's also, in a good way, just very New York.
Alex's cocktails match the food. His St. Dill Martini, of which I had a few too many on a recent Friday night, is poised and pretty in the way that market-driven cocktails are: spicy yellow pearls of mustard seeds, long feathery dill sprigs, and a snappy kosher dill set into a crystal-clear composition of spirits. All of these ingredients, along with the vodka (hushed by a whisper of dry vermouth and a slug of pickle juice), offer staple Ukrainian flavors. It's a sophisticated drink but an authentic one, perfect for washing down the small bites that start the meal—deviled eggs crowned with caviar, their filling bolstered by smoked sprats; delicate melting curls of salo (house-cured fatback); and that rarity in Stateside restaurants, aspic, this one mingling beef and pork in a gelled broth—a glass brick of umami—topped with prepared horseradish and pickled mushrooms. Truth be told, though, clutching glass after glass, I drank the St. Dill Martini straight through the stroganoff and the chicken Kiev and all the way to the last bite of the chocolate-rum truffles for dessert.